Hurricane Matthew Recovery
On the evening of October 8, 2016, Hurricane Matthew passed through the City, causing flash flooding that forced public safety officials to rescue nearly 100 individuals in approximately 40 incidents. In the days after, the Tar River levels rose to nearly 12 feet above flood stage, resulting in catastrophic flooding of areas north and south of the river.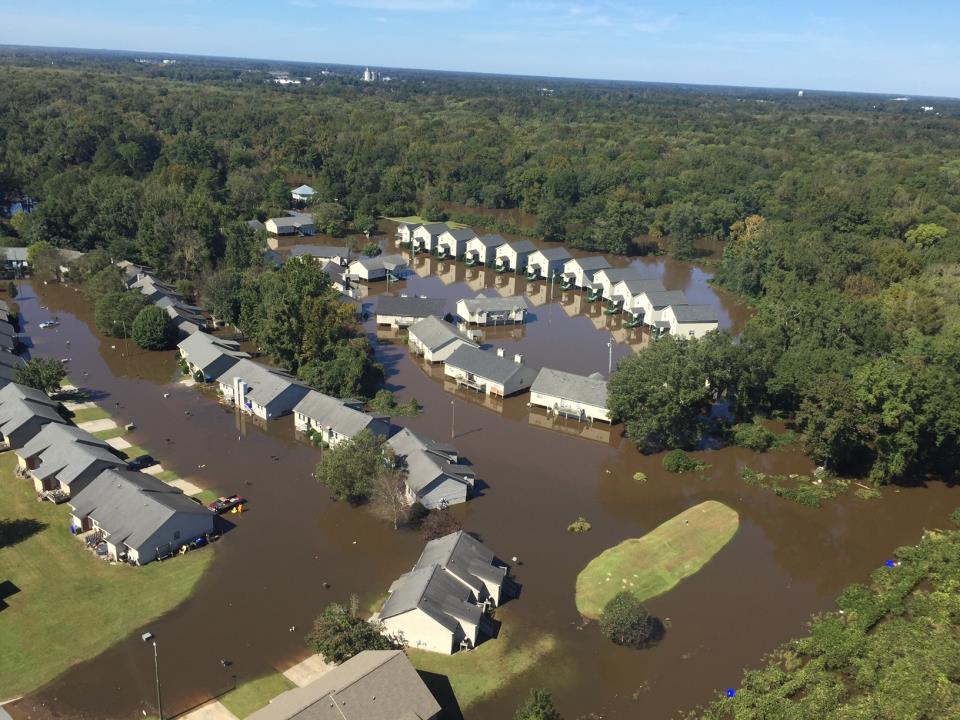 As the City continues the recovery phase, officials have compiled a list of helpful information and links that will assist anyone who was affected by the storm.
UPDATED: Buyout Information
Application intake sessions for prospective buyout candidates in Pitt County have been scheduled for Wednesday, March 8, 2017 and Thursday, March 9, 2017 at both the County Agricultural Center Conference Room, 403 Government Circle, Greenville, and the Harvey Building, 540 Queen Street, Grifton.
The buyout program involves the acquisition of flood-damaged properties and the relocation of households to comparable housing outside of the floodplain. Prospective buyout candidates are asked to call or stop by the Pitt County Planning Department, 1717 West Fifth Street, Greenville, to pick up an application.
For more information, call the Pitt County Planning Department at (252) 902-3250.
Flooded Structure Repair Guidelines
Drying out the structure is a crucial issue which needs to begin as soon as possible. No permit is required to begin removal of wet materials. However, extreme caution should be exercised and steps should be taken to ensure the safety of those involved.
Wall covering must be removed to a point above where the material has been submerged or where wicking has occurred.If mold is visible, contamination has occurred, and it is highly recommended that such material be removed or professionally cleaned and certified as clean.
Remove all insulation from under the house and from inside the affected walls to a point where only dry insulation remains (this may require removing all of the wall insulation).
Remove all floor coverings, padding and carpeting
Remove all warped, deteriorated, or otherwise damaged building materials.
Allow structure to dry thoroughly. Wood framing members should dry to 19% moisture content or less prior to placement of new insulation, air barriers, or wall coverings.
Building Permits will be needed. After obtaining the permit you can contact the Inspections office (252)329-4466 to schedule a moisture level inspection before insulation is installed or otherwise covering exposed wood framing.
All cloth-covered wiring must be replaced, and romex type wiring where open ends have been submerged must be replaced. (This includes under the structure and inside the structure
All electrical devises (i.e. receptacles, switches, fixtures, breakers, fuses, panels, meter bases, etc.) must be replaced if they were exposed to flood waters.
All gas valves and associated wiring for appliances such as water heaters, stoves, logs, etc., must be replaced if they were exposed to flood waters.
All furnace, gas packs and air conditioning equipment, and associated duct systems and insulation must be replaced if they were exposed to flood waters.
All structures having flood waters that affected plumbing, electrical, mechanical, or general building systems should be inspected by the City of Greenville Inspections Division prior to re-occupancy.All structural, electrical, mechanical, and plumbing repairs are to be permitted, inspected, and approved. (NC General Statutes require certain work to be performed by licensed contractors). Once a final inspection is approved, the Inspections Division will issue a Certificate of Occupancy.
Issues related to Environmental Health and Indoor Air Quality may pose significant health risk and should be addressed.You may contact the Pitt County Health Department at 252-902-2300 for further information.
These procedures are based on information and guidance received from The North Carolina Department of Insurance (NCDOI), National Electrical Manufacturers Association (NEMA) and the Consumer Products Safety Commission (CPSC)
Please contact the Inspections Division at 252-329-4466 for questions regarding this information.
All Flooded Structures shall be considered uninhabitable until such time as all Structural, Electrical, Mechanical, and Plumbing repairs are permitted, inspected and approved. Further, that all bio-hazardous conditions have been identified, treated and our office receives a certification as to the safeness of the environment within the structure and the Inspections Division of the Community Development Department issues a certificate of occupancy.
You can find some information regarding mold remediation here.
----
Temporary Electric Power Procedure for Flooded Structures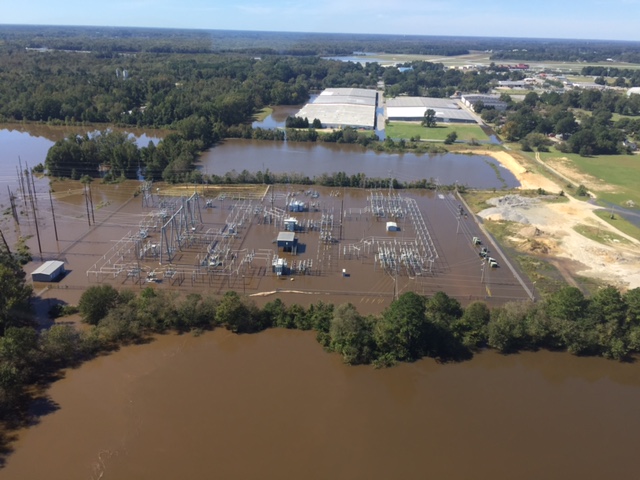 Temporary Electric Service can be obtained in the following ways:
Obtain a Temporary Service Pole Permit or a Temporary Utility Permit for an existing service that can be utilized.
Have a Licensed Electrician obtain a permit and disconnect all electric circuits in the panel serving submerged wiring, devices, equipment, etc.
Have the electrician furnish a brief letter on company letterhead listing what was disconnected and request an inspection for temporary power.
Electrician can then proceed to replace items and follow the standard procedure regarding rough-ins and finals.
NOTE: This process is designed to facilitate the use of pressure washers, fans, dehumidifiers and other equipment used to clean and dry a structure—NOT to facilitate occupancy.
---
Flooded Structure Inspection Process
1. Remove all wet materials and begin the drying out process. No permit is required to begin this process.
2. Allow to dry thoroughly.
3. Refer to "Flooded Structure Repair Guidelines" and obtain required permits.
(Important: THE BUILDING PERMIT CARD MUST BE POSTED ON SITE)
4. Call the City of Greenville Inspections Division at 329-4466 to schedule a moisture content inspection.
5. If passed AND you have proper permits, you may begin replacing portions of the electrical, mechanical, plumbing and building systems as required or needed. (All structural repairs must be inspected before covering.)
6. Call for inspections on these systems once rough-ins are complete.
7. If passed, you may re-insulate and schedule an insulation inspection.
8. If passed, you may replace wall covering and complete the project.
9. Once complete, call for a final inspection.
10. If passed, a Certificate of Occupancy (C.O.) will be issued, and you may reoccupy the structure.

To schedule inspections, please call 329-4466. If you reach our message line, follow the instructions. You will need to leave the following information:
1. The Permit Number (looks similar to… "16-0012345")
2. Your name and the address of the job
3. The type of inspection you need

Your request will be processed and conducted as soon as possible. The inspector will sign the permit card if passed or leave you a written statement as to why the inspection failed posted at the permit card or near the front entrance to the structure.
---
What to Look for When Returning Home
---
Federal Emergency Management Agency (FEMA) Assistance

Residents can apply for FEMA financial assistance at DisasterAssistance.gov, 800-621-3362 or (TTY) 800-462-7585. Applicants who use 711 or Video Relay Service may also call 800-621-3362. The toll-free numbers are open 7 a.m. to 11 p.m. seven days a week. Multilingual operators are available. The deadline for applying for FEMA assistance has been extended to January 23, 2017.
Key Messages
Don't delay. Act now to find permanent housing and develop a plan for recovery.
If you had Hurricane Matthew damage, be sure to register. Tell your family, friends and neighbors who had damage to register with FEMA, too.
The new deadline to register for assistance from FEMA is Monday, Jan.23, 2017.
Designated Counties
45 counties are eligible for Individual Assistance, which can include grants for temporary housing and home repairs, and other programs to help individuals and households recover from the effects of the disaster: Anson, Beaufort, Bertie, Bladen, Brunswick, Camden, Carteret, Chatham, Chowan, Columbus, Craven, Cumberland, Currituck, Dare, Duplin, Edgecombe, Gates, Greene, Halifax, Harnett, Hertford, Hoke, Hyde, Johnston, Jones, Lee, Lenoir, Martin, Moore, Nash, Northampton, Onslow, Pasquotank, Pender, Perquimans, Pitt, Richmond, Robeson, Sampson, Scotland, Tyrrell, Wake, Washington, Wayne and Wilson.
A total of 50 counties are eligible for FEMA Public Assistance, Categories A through G, which includes grants for reimbursement of emergency costs, and permanent repair or replacement of disaster-damaged infrastructure resulting from Hurricane Matthew: Anson, Beaufort, Bertie, Bladen, Brunswick, Camden, Carteret, Chatham, Chowan, Columbus, Cumberland, Craven, Currituck, Dare, Duplin, Edgecombe, Franklin, Gates, Greene, Halifax, Harnett, Hertford, Hoke, Hyde, Johnston, Jones, Lee, Lenoir, Martin, Montgomery, Moore, Nash, New Hanover, Northampton, Onslow, Pamlico, Pasquotank, Pender, Perquimans, Pitt, Richmond, Robeson, Sampson, Scotland, Tyrrell, Wake, Warren, Washington, Wayne and Wilson.
Individual Assistance
To register with FEMA: download FEMA's mobile app or register online at DisasterAssistance.gov. Call FEMA's Helpline at 800-621-3362 for voice, 711 and Video Relay Service. If you are deaf, hard of hearing or have a speech disability and use a TTY, call 800-462-7585.
Individuals who would like to meet with a FEMA representative in person can visit any of the three
Disaster Recovery Centers around the state (*Find a list of DRCs at the bottom of the report.)
Temporary Sheltering Assistance (TSA) is for eligible disaster survivors who are unable to stay in their homes and need a short-term place to stay when housing options in their area are limited. TSA is a temporary solution to help bridge the gap for survivors until they can find a more permanent housing solution. TSA is available in the following North Carolina counties: Columbus, Cumberland, Dare, Edgecombe, Hoke, Johnston, Lenoir, Pitt, Robeson Wayne and Wilson.
The deadline for TSA-eligible applicants to remain in TSA lodging has been extended in increments of 14 days through Feb. 4, 2017 or until other viable housing options are identified. Survivors eligible to stay in TSA lodging will be contacted before the end of each 14-day period and made aware of their continued eligibility and the new deadline. Those no longer eligible for the program also will be contacted.

FEMA can help survivors locate temporary rental resources. Applicants may receive information on housing resources by calling FEMA's hotline at 800-621-3362 or through FEMA's housing portal: asd.fema.gov/inter/hportal/home.htm. Those receiving FEMA grants for rental assistance need to save their receipts.
Know the facts, ignore the rumors
RUMOR: Once FEMA determines that you are not eligible for assistance there is nothing you can do.
FACT: Every homeowner or renter has the right to appeal FEMA's determination decision. The first step in appealing the decision is reading your determination letter carefully. Sometimes FEMA just needs additional information. There may be issues with your application that can be resolved quickly and easily, enabling you to receive assistance.
If you decide to appeal FEMA's decision, your appeal must be in writing and must be received within 60 days of the date on your FEMA determination letter. You may file your appeal documents at a disaster recovery center, by fax at 800-827-8112, or by mail to:
FEMA National Processing Service Center, P.O. Box
10055, Hyattsville, MD 20782-7055.
The State of North Carolina is using NCHousingSearch.org to help find rental resources for those displaced by Hurricane Matthew. Property providers can help by logging in to add or update listings, or call 1-877-428-8844 (toll free).
---
Filing a Flood Insurance Claim
If you have experienced a flood, you can file your flood insurance claim by following these three steps.
Step One: Notify your Insurer to Start the Claims Process

After experiencing a flood, contact your agent or insurance company to file a claim. Make sure you have the following information handy:
• The name of your insurance company
• Your policy number
• A telephone and/or email address where you can reached at all times An adjuster should contact you within a few days of filing your claim. If you do not hear from an adjuster, please contact your insurance agent or company again.
Step Two: Document the Damage

Separate damaged from undamaged property. Your adjuster will need evidence of the damage to your home and possessions to prepare your repair estimate. Take photographs of all of the damaged property, including discarded objects, structural damage, and standing floodwater levels. Make a list of damaged or lost items and include their date of purchase, value, and receipts, if possible. Officials may require disposal of damaged items so, if possible, place flooded items outside of the home.
Step Three: Complete a Proof of Loss to Support your Claim

Your adjuster will assist you in preparing a Proof of Loss (which is your sworn statement of the amount you are claiming including necessary supporting documentation) for your official claim for damages. You'll need to file your Proof of Loss with your insurance company within 60 days of the flood. You'll receive your claim payment after you and the insurer agree on the amount of damages and the insurer has your complete, accurate, and signed Proof of Loss. (See attached documents for more information).
More about Insurance Claims:

• Contact your insurance agent as quickly as possible and ask for instructions on what to do until the adjuster arrives.
• Prepare an inventory of personal property that has been damaged or destroyed; take pictures of the damaged property.
• Keep all receipts. Reasonable expenses to protect your property are part of the loss and are generally reimbursed by insurance companies.
• Do not have permanent repairs made until your insurance company has inspected the property and you have reached an agreement on the cost of repairs.
• If your home is uninhabitable, most homeowner's policies pay additional living expenses while your property is being repaired. Before renting temporary housing, check with your insurance company or agent to determine what expenses will be reimbursed.
• Review the settlement steps outlined in your policy. If you are dissatisfied with the proposed settlement offer, explain your position. If there is a significant difference between what the insurance company offers and what you believe you are entitled to, you may wish to submit the dispute to arbitration.
If you have questions about the insurance claims process or need assistance, you can call the Consumer Services Division of the N.C. Department of Insurance at 1-800-546-5664, your county cooperative extension agent or the N.C. Insurance News Service at 1-800-936-7475.
---
Businesses
Low-interest disaster loans from the U.S. Small Business Administration (SBA) are available for businesses of all sizes (including landlords), private non-profit organizations, homeowners and renters. Disaster loans cover losses not fully compensated by insurance or other recoveries. The deadline to apply is January 9, 2017.
Business and nonprofits can apply for up to $2 million to repair or replace damaged real estate, machinery, equipment, inventory and other business assets. Loans for working capital, known as Economic Injury Disaster Loans, are available even if the business did not suffer any physical damage.
Homeowners can apply for up to $200,000 to repair or replace damaged real estate. Homeowners and renters can apply for up to $40,000 to repair or replace damaged personal property, including automobiles.
Small businesses and most private nonprofit organizations in many of the counties listed above also may apply for SBA Physical and Economic Injury Disaster Loans.
For information or to request application forms, call the SBA's Customer Service Center at 800- 659-2955 (800-877-8339 for the deaf and hard-of-hearing) or send an email to disastercustomerservice@sba.gov.
An established social media hashtag for businesses to report public safety concerns, share barriers to accessing sites, and note being ready for customers after #Matthew is: #NCOpen4Biz - @NCEmergency
---
Food and Nutrition Services
Food and Nutrition Services (food stamps) recipients in all 100 counties in North Carolina are approved to purchase hot meals from authorized Electronic Benefits Transfer retailers starting, Saturday October 15. The waiver will run through November 14.
Areas affected by Matthew are allowing current food stamps recipients to receive replacement benefits. The deadline for replacement requests is Tuesday, October 18.
The state is still awaiting federal approval to provide disaster food stamps to residents who do not currently receive the benefits, but who had flood damage or power outages.
Recipients are advised to visit the Department of Social Services location at 203 Government Circle in Greenville to complete an affidavit regarding the loss. The scheduled deadline to apply is 10 days from the date of the food loss unless an extension is granted, which has not been approved at this time. Pitt County Department of Social Services employees will also be at shelter sites to take applications.
For more information on the hot food waiver, call 211 or go to unitedwaync.org/nc211
---
Important Phone Numbers
Greenville Emergency Operations Center...252.329.4164
Greenville Utilities...252.752-7166
N.C. Department of Transportation...Dial 5-1-1 for road closures
Pitt County Emergency Operations Center...252.902.3999
Pitt County Animal Shelter...252.902.1726
Pitt County Department of Social Services...252.902.1110
Pitt County Health Department...252.902.2300
---
Other Helpful Resources
The Pitt County Disaster Recovery Center is located at the Pitt County Cooperative Extension Auditorium, 403 Government Circle, Suite 2, Greenville. The center is open Monday-Saturday from 10:00 AM-7:00 PM and closed on Sundays.
--
The North Carolina Department of Public Safety is posting storm-related information online at https://www.ncdps.gov/hurricane-matthew-2016. Visit this site for information about road conditions, shelters, food assistance and other storm recovery help.
--
The U.S. Department of Agriculture (USDA) North Carolina Farm Service Agency (FSA) has a host of programs for to help farmers and livestock producers recover from heavy rains, flooding and other qualifying events related to Hurricane Matthew. For more information, visit www.fsa.usda.gov/ or contact your local FSA Office by visiting http://offices.usda.gov.
--
The U.S. Small Business Administration has announced a disaster declaration for North Carolina counties affected by Hurricane Matthew. The SBA offers disaster loans for small businesses, agricultural cooperatives, private nonprofits, homeowners and renters. SBA disaster loans can be used to repair or replace the following items damaged or destroyed in a declared disaster: real estate, personal property, machinery and equipment, and inventory and business assets. For more information, visit: https://disasterloan.sba.gov/ela/
--
The Pitt County Business Recovery Center is located at:
Small Business & Technology Development Center (SBTDC) Regional Service Center
East Carolina University Willis Building
300 E. 1st Street
Greenville, NC 27858

Operating hours are:
Monday – Friday, 8:00am – 5:00pm
Saturdays, 9:00am – 1:00pm
(Closed on Sundays)
--
A North Carolina Small Business Emergency Bridge Loan Program has been activated in response to Hurricane Matthew. The program will provide short-term, interest-free loans to small businesses that experienced physical or economic damage during the storm and recovery efforts. For more information or to find a program office, visit http://www.sbtdc.org/hurricanematthew/. To apply, visit https://www.greenvillenc.gov/Admin/Page/www.ncruralcenter.org/hurricanematthew. For questions or assistance, call the SBTDC at (919) 715-7272