There are several ongoing public and private projects in Greenville, and the City has created an interactive map to provide citizens with details of where these major projects are located, their expected completion dates, and what impacts (if any) the projects are having on transportation. This map will be updated as projects are completed and new ones are started. To view the interactive map, click the link below.
A Greater Greenville: Major Projects Map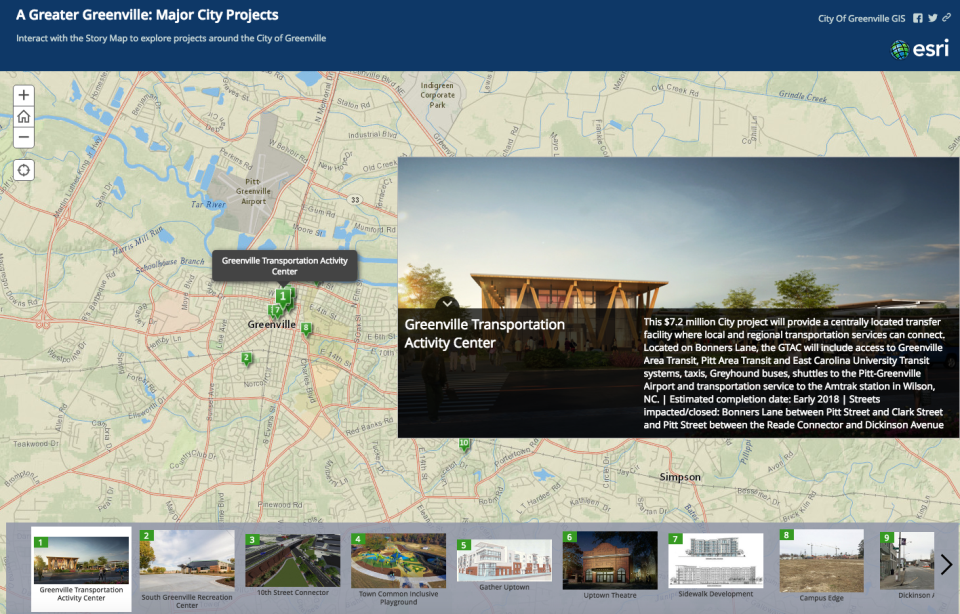 Listed below is more information about future City projects.
An NCDOT project to study ways to improve safety along 10th Street, from the 10th Street Connector, across the ECU campus, all the way to the entrance to Brook Valley.


The City of Greenville broke ground on the Greenville Transportation Activity Center (GTAC) on November 29, 2016. This project started as a City Council goal to create a facility which would encourage multiple modes of transportation within the City, provide a central access point where people could transfer from one mode to another, and create a hub not only for transportation within the City, but also a catalyst for revitalization and economic development. The expected completion date is early 2018. Click HERE for more information.

---

The City of Greenville operates 68 buildings and facilities that are used for governmental functions, recreation, and other activities. There is a plan in place for maintaining and improving the approximately 550,000 square feet of building space.


---

The City of Greenville is responsible for more than 700 lane miles of streets throughout the City. A transportation improvement bond approved in 2015 provides $10 million for the City to mill, repair, and resurface City-maintained roads.


---

An aging storm drainage system and an increase in the surface area for stormwater to go into it has created major flooding in Greenville's Uptown Shopping and Dining District. This project will help solve this problem.

---

This project is taking an inventory of Greenville's watersheds and helping to develop prioritized project lists to reduce flooding in Greenville, improve our water quality, and ensure efficient use of tax dollars for storm water projects.

---



The proposed Sycamore Hill Gateway Plaza will be built on the site where the prominent Sycamore Hill Baptist Church once stood. Incorporating iconic features, the gateway plaza will become a prominent western entrance to Town Common. Click here for more information.


---



This project is to develop refined plans, specifications, and cost analysis for the successful implementation of the Phase I Town Common Improvements. The design development of Town Common will include an engaging, participatory process to ensure the inclusion of a wide range of focus groups and stakeholders. Click here for more information.


---