City Purchasing Division Earns Prestigious Award
Post Date:
02/23/2017 12:47 PM
GREENVILLE, N.C. — The Purchasing Division of the City of Greenville's Financial Services Department was recently named a winner of the 2016 Sustained Professional Purchasing Award (SPPA). The award is presented annually by the Carolinas Association of Governmental Purchasing (CAGP) to member agencies that have demonstrated excellence in purchasing standards during the calendar year.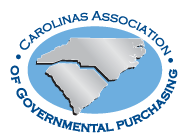 The criteria for the award includes the use of technology, minority outreach, staff certification, customer training, vendor training, and the use of recycled products. Greenville is one of 15 agencies throughout the CAGP to receive the award.
"This is the 10th consecutive year that the City has received the Sustained Professional Purchasing Award," City Financial Services Director Bernita Demery said. "It is the first time under the new leadership of Ms. Denisha Harris, Purchasing Manager. It is refreshing to continue the legacy of excellence from Mrs. Angelene Brinkley, former Purchasing Manager. We are exultant to be one of only a few governmental agencies in North Carolina to receive this prestigious award."
The award will be presented at the CAGP Spring Conference Banquet on March 7, 2017 in Hickory, N.C.