Director of Financial Services
A native of eastern North Carolina, Bernita Demery has been employed with the City of Greenville since 1988. She is the Director of Financial Services for the City. Demery is a highly effective leader with more than 25 years of experience in the government management area.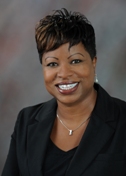 Bernita W. Demery, CPA, MBA
She directs all operations of the City of Greenville's financial operations such as; economic and capital improvement financial planning, investment and debt management, accounting, budget, payroll, centralized purchasing, collections, grants management and Minority/Women Business Enterprise (MWBE) Program development.
Ms. Demery holds a Bachelors of Science Degree in Accounting from North Carolina Agricultural and Technical State University and a Masters in Business Administration from East Carolina University. In 2008, the North Carolina Association of Certified Public Accountants (NCACPA) elected her to fill one of eight positions on the NCACPA Board of Directors.
"As a leader in the 21st century, success is a blend of vision and ingenuity, grounded in proven best practices, coupled with a spirit of excellence. I strive to bring the City of Greenville's Financial Services Team the leadership and guidance to create success for the citizens and employees. My goal is to provide easy access to accurate financial information."