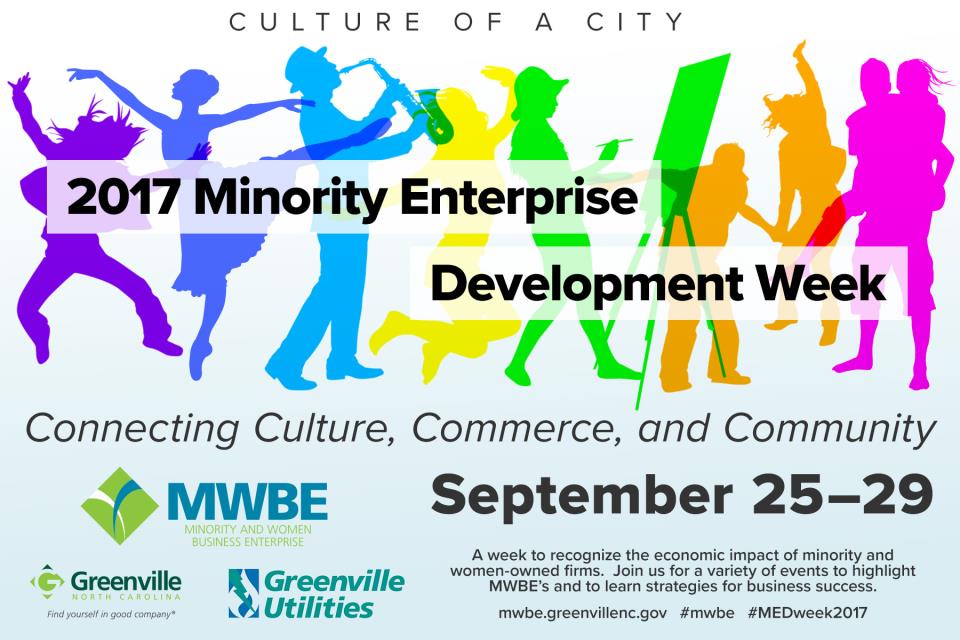 About MED Week
Each year since 1983, the President of the United States has proclaimed a week as National Minority Enterprise Development (MED) Week to honor the achievements and many contributions of minority entrepreneurs, individuals and organizations that support minority business development. The City of Greenville has replicated this week on the local level to recognize our outstanding MWBE community.
Greenville MED Week provides a platform for MWBE firms to:
Learn about business growth strategies,
Receive training and tools for business development,
Gain networking opportunities, and
Promote your business through sponsorship and advertising
MED Week has something for everyone:
The entire community is invited to unlock the treasure chest of Greenville's Gems by engaging in activities throughout the week. Follow us on social media,#MEDWeek2017 #MWBE, to learn interesting facts about minority economic development and see how you can support a Growing Greenville!
These week long events begin September 25 and will end September 29th during this time we will be hosting a luncheon and art showcase featuring businesses and organizations dedicated to producing art and cultural artifacts in our city. These firms are often overlooked as drivers of industry, but they also are important contributors to the overall economic impact of minority and women owned firms. The first event will be social media based with our luncheon being held at the Hilton in the Carolina ballroom beginning at 11am September 28th. This event will be free to the public along with our later event hosted at Emerge Gallery at 7pm on September 29th. We also will be seeking submissions for a Visual Art Exhibit that may be featured in our Greenville community. If you are interested in participating please download the application below.
Interested in learning more?
Stay connected to what's happening by signing up for our newsletter: