Dear Community Partner,
We are excited that you have chosen to partner with the City of Greenville in the National Night Out celebration scheduled for Tuesday, August 1, 2017, from 6:00-8:00 pm. The City of Greenville will be joining in unity with 38.5 million other residents in 16,500 communities across the United States in showing our collective support to deter crime from our city.
Each year various homeowner's associations, religious, special interest, and local businesses host community events during National Night Out. The event promotes opportunities to meet neighbors, get reacquainted, and learn more about the services offered in their community. These opportunities collectively build relationships to deter crime in our city.
As we prepare for the 2017 celebration, I encourage you to follow the recommendations below for a successful event.
Purpose:
National Night Out is the demonstration of solidarity in a community to strengthen partnerships within the community and with law enforcement. The events vary from homes simply turning on their porch lights to demonstrate their participation to ice cream socials, cookouts, visits from the fire department, police personnel, elected leaders, and local medical community.
Theme: Our theme for this year's local National Night Out event is Protect Your Property One of the most emotional times one can experience is when they have been victimized by theft to their home or vehicle. The challenges of locating and listing missing property can be overwhelming. Additionally, the time and financial burden of replacement and repairs to associated damages creates added stress. Officers will be distributing literature and basic instructions during National Night Out to help prevent your neighbors from experiencing such an event.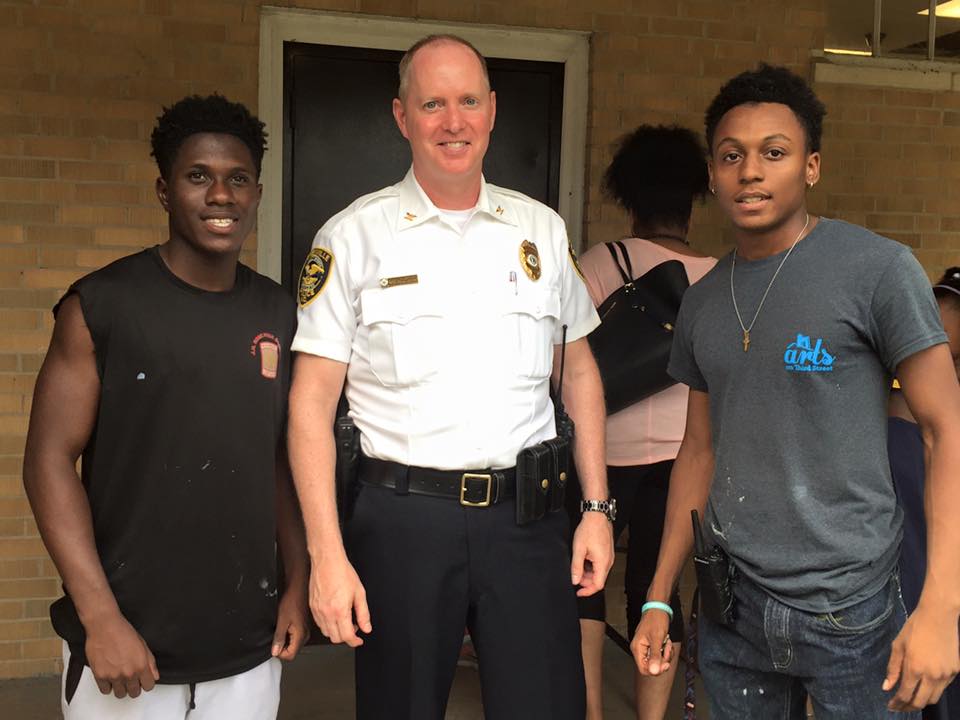 Commitment:
National Night Out should be an enjoyable, stress free event for all. We encourage participating groups to make a preliminary plan of events custom to their neighborhood and form committees to make the preparation more simple.
Registration:
The City of Greenville has registered with National Night Out, Inc. to participate in the 2017 event. However, we require that each participating group within the city limits register their group as a participant with the Greenville Police Department by June 30, 2017. You may register by emailing Sergeant Dale Mills at dmills@greenvillenc.gov your group's name, contact person, telephone number of contact, location of event, if your group is requesting funding for your event, and what resources you are requesting from the city.
Funding:
Each participating group will receive up to $250.00 from the City of Greenville to help fund their event. This year we will have a representative from the police department at Sam's Club, located at 4240 Winterville Parkway, Winterville, NC on Monday, July 31, 2017, from 8:30am-9:30am and 5:00pm to 6:00pm for your group to make purchases utilizing funds allotted to them.
If your neighborhood chooses to purchase items from other locations or outside this timeframe, those purchases will be permitted as well provided that the following procedures are followed:
All requests should include a signed letter from the person in charge of the participating group requesting reimbursement

All requests for reimbursement must be accompanied by receipts along with an itemized list of purchases

Provide the name, contact person, phone number, and email of a contact person

Provide the name of who the reimbursement check should be written to as well as the address of where to send the check

Requests for reimbursement must be postmarked or received by email prior to 5:00pm August 15, 2017.

Email completed documentation to dmills@greenvillenc.gov , or mail your documentation to:
Greenville Police Department
Sergeant D.W. Mills
P.O. Box 7207
Greenville, NC 27835-7207
Attention: National Night Out
Resources:
Participating groups should anticipate a visit from the officers that work their area. Typically three to five officers will visit. Additionally, as time will allow, neighborhoods may receive a visit from local elected officials, the Chief of Police, the City Fire Chief, and many others.
Specialty vehicles from the police and fire department should also be anticipated as time allows. These include Fire Department vehicles, the Police Mobile Command Center and Police Forensics Truck. Visits from McGruff and Smokey the Bear will be scheduled as possible. All services will be scheduled through the police department and fairly distributed. Unfortunately, in the time frame given, it is impossible for all resources to visit every group. Your understanding in this matter is appreciated in advance.
Supplies:
National Night Out, Inc. provides a wide variety of supplies to promote your event. These items can be viewed at www.nationalnightout.org . The most frequent item requested is banners to announce the event in neighborhoods throughout the city. Each banner is $33.00 and a minimum order of five is required. If your group would like a 2017 advertising banner, please remit your payment to Sergeant D.W. Mills, payable to the City of Greenville, by June 15, 2017 for processing. In the event less than five orders are received, the checks will be returned to the group. Orders will be distributed upon receipt at the police department.
It is important for participants to know that the National Night Out Trademark or any variation thereof cannot be duplicated or utilized on any wearables such as shirts, caps, or other promotional goods. The logo maybe utilized on literature such as flyers, posters, and announcements.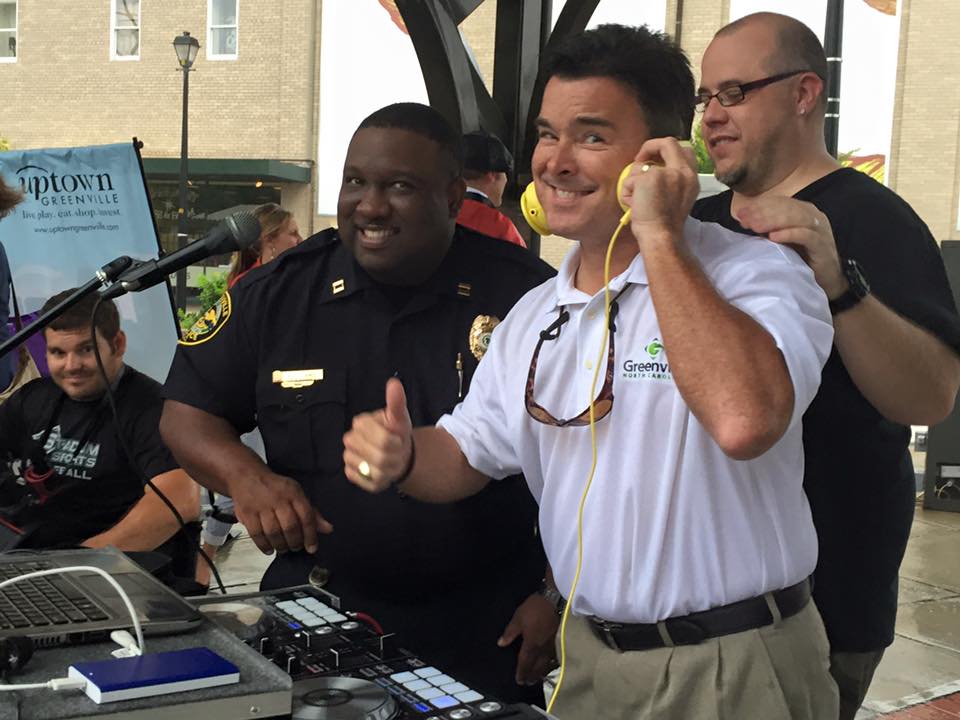 Door Prizes:
Each participating group is encouraged to solicit door prizes for their event to promote involvement and social activity. To help facilitate the inclusion of door prizes, the Police Department will be purchasing a door prize to be given away for each participating group this year.
Street Closing:
If your event will require a street to be closed during the event an application for the request must be approved by the Chief of Police. Applications can be obtained online here. All requests for street closings must be submitted by July 1st, 2017. If your application for street closure is approved, and you will require street barricades you will be notified in advance of the event on where to pick them up and return them too after the event.
In closing, we are honored to partner with our neighborhoods in improving individual crime prevention measures through our 2017 National Night Out Celebration.
Respectfully,
Dale W. Mills
Sergeant
Community Outreach Division