The Greenville Police Department and East Carolina University have been collaborating to make this year's Halloween a safe and enjoyable time for people of all ages.
TRUCK OR TREAT
This year Uptown Greenville has arranged for local vendors and food trucks to be stationed in the 100 block of 5th Street from 9:00 p.m. to 1:00 a.m. on Halloween night, Tuesday, October 31.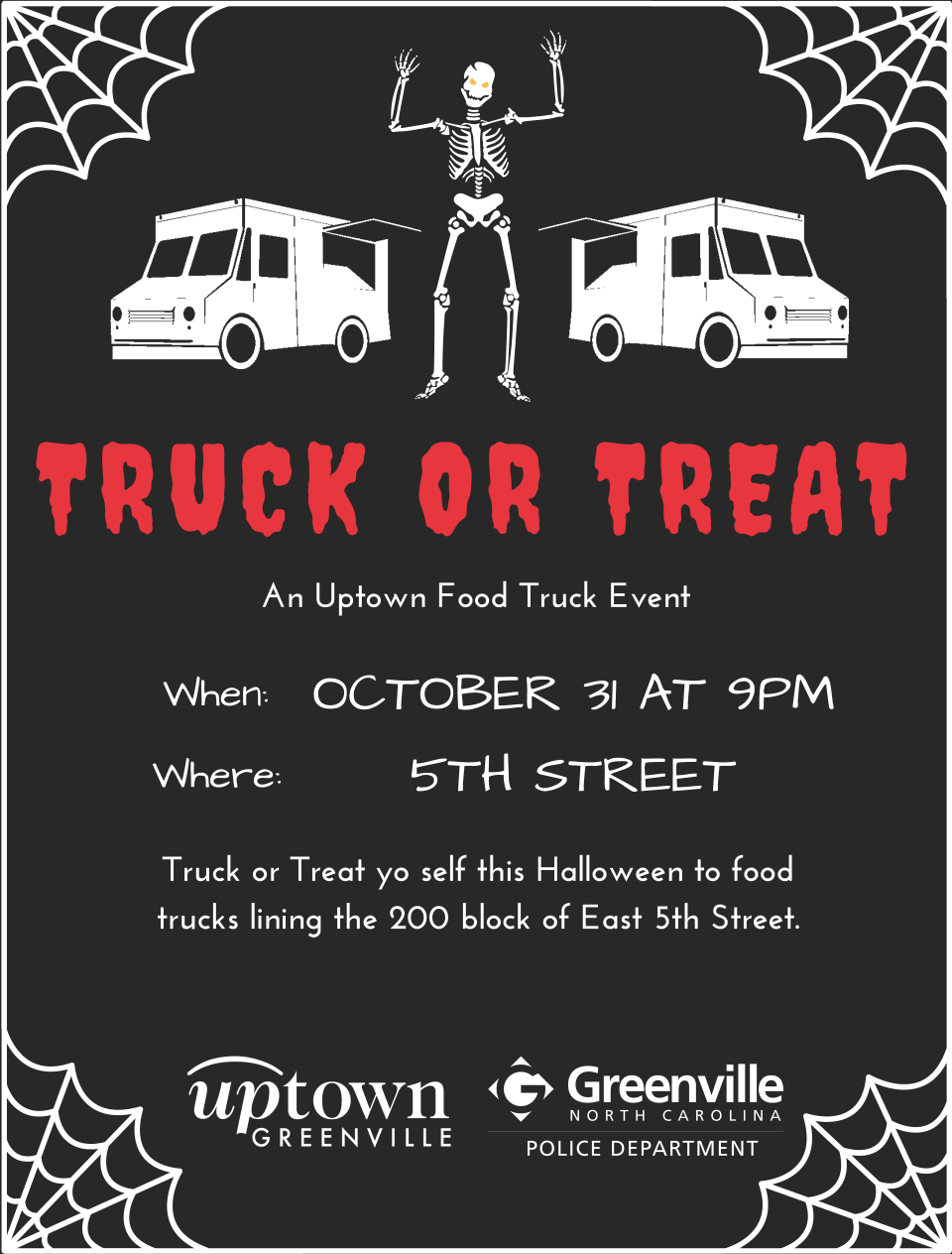 CHECKING STATIONS
There will be four checking stations located throughout downtown Greenville (see map below). These checking stations are optional; however, if someone does not wish to go through a checking station, they will not be allowed to enter the event area. For security reasons, no weapons (real or costume) will be permitted in the designated event areas. The checking stations are as follows:
5th and Reade
5th and Evans
Cotanche Street near Chicos
Cotanche near Parking Deck
PARKING
The Five Points lot and the 4th Street Parking Deck will both be open for public parking this year.
SECURITY
The Greenville Police Department has hired "Staff One" to work security at the downtown entrance points. Security staff will be dressed in identifying neon shirts and vests, similar to what one might be used to seeing at East Carolina University sporting events. This will allow for a smooth transition into the downtown area and free up emergency personnel to allow them to respond and be available for true emergency situations and calls for service. Extra police officers will still be stationed in the downtown area and throughout the city. Additional GPD staffing has also been planned for the weekend prior to Halloween.
NEIGHBORHOODS
School resource officers will be dispersed throughout the city to provide high-visibility patrols in neighborhoods known for a high volume of foot traffic during trick-or-treat hours.
HALLOWEEN HAVOC
Halloween Havoc is a substance free event offered by ECU for the students that starts at 10 p.m. and ends at 2 a.m. on October 31 at the Student Recreation Center. It includes various games and activities for the students, as well as free food and beverages.
ECU TRANSIT
All routes serving off-campus locations will provide one-way inbound service only until 12:30 a.m. After 12:30 a.m. passengers cannot board buses off-campus inbound to campus. All routes will drop off and pick up at the Mendenhall / West End bus stop. Return trips to off-campus locations will not be allowed until after 12:30 a.m. at which times all trips will only take passengers off-campus.
Routes operating will include all 900-series Pirate Express routes with the exception of 902 The Grid which will be modified and only serve University Terrace, Brownlea and Third, Brownlea and Wyndham, and First and Oak.
Buses will operate continuously without a set schedule from 10:30 p.m. until last trips depart Mendenhall / West End at 2:30 a.m.
Rules for Pirate Express will be in effect for all routes; absolutely no alcohol regardless of container is allowed. Weapons, fighting, smoking, backpacks, and other large carry-on items are also prohibited. Persons getting sick onboard will be assessed a $50 cleaning fee.
SafeRide will operate from 6:30 p.m. to 2:30 a.m. and serve its existing service area only.
For more information please contact the ECU Transit Customer service line at 252-328-4724.