Imperial Tobacco Site Development
The City of Greenville worked diligently in recent years to obtain ownership and site control of 8.52 acres in the uptown area of the city. The City's primary objective for the site is to work with the private sector to revitalize the area, which was the former home of the Imperial Tobacco Company.
In an effort to meet this objective, the City engaged the UNC School of Government's Development Finance Initiative (DFI) to create a redevelopment plan and help to attract, solicit, and evaluate proposals from private developers.
The Imperial Site
Once home to the tobacco processing and warehousing facilities, the Imperial site is now largely vacant land located between Dickinson Avenue, Clark Street, Bonners Lane and the railroad tracks. It is located within a quarter-mile of the recently announced ECU Millenial Campus, a research and innovation center, and is walking distance to uptown Greenville businesses and ECU.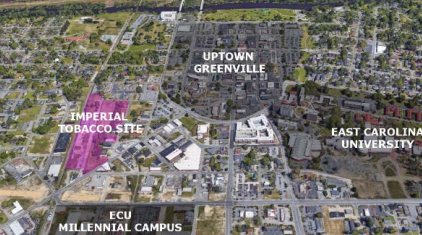 The Imperial site is also part of the "Dickinson Avenue Arts and Innovation District," a budding, creative neighborhood containing many of the new popular restaurants and breweries in Greenville. The City has also prioritized streetscape and paving improvements along Dickinson Avenue and is currently conducting parking studies to support continued growth in the area. The City is also planning bike and pedestrian transportation connecting this area to thoroughfares and community assets such as greenways and the Town Common park.
The site is also in close proximity to important future projects such as the Greenville Transportation Activity Center, the Dickinson Avenue Lofts project, and the 10th Street Connector.
Request for Proposals
In June of 2017, a request for proposals for the Imperial site project was issued by the City of Greenville. The project contains several different development pads, each of which are zoned CD-Downtown Commercial. The City expressed interest in seeing the site contain a mix of uses including residential, retail, and office, as identified by DFI's market analysis.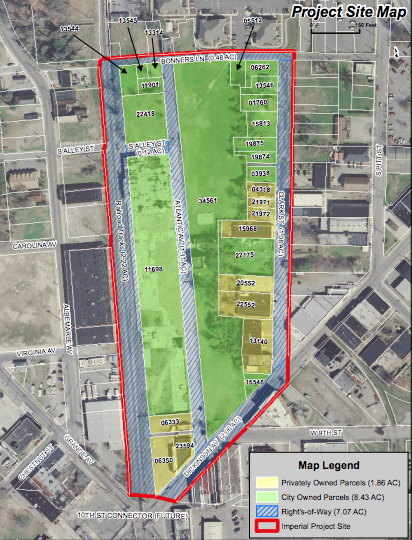 The City worked with DFI to create a public-private participation structure that outlines potential roles of the private developer(s) and the City for this project. A selection by the Greenville City Council is not final approval, but it will trigger an exclusive period of negotiation between the City and the selected developer to form a development agreement for the project.
Proposals Received
The City of Greenville received proposals from three development firms for the Imperial site project. Since receiving the proposals, staff has been working thoroughly to complete due diligence on each firm. The team has evaluated the original proposals, interviewed each firm, reviewed the firms' previous developments, and conducted background investigations.
The three development firms that submitted a response and links to their proposals are included below. Please note that the City redacted some information from the proposals so as to not frustrate the selection process.
The Keith Corporation (Charlotte, NC) - Proposal
Armada Hoffler (Virginia Beach, VA) - Proposal
Hallmark Communities and Seacoast Communities (Mount Pleasant, SC) - Proposal