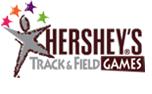 Description: Hershey's Track and Field program was created over 30 years ago to promote youth physical fitness and provide fun learning experiences for youth ages 5-14. Youth track and field is a great way to get kids started in a physical fitness program.
The local competition will be held on Tuesday, June 28 and Thursday, June 30 at the J.H. Rose High School track at 5 PM.
For more information email Bershuan Thompson or call 252.329.4549.