Recreation and Parks Creative Oasis Program Earns Arts and Humanities Award
MYRTLE BEACH, S.C. — For six years, Greenville Recreation and Parks' Creative Oasis program has provided adults with disabilities a journey into arts and creative experiences once largely unavailable to them. The program was recognized for those efforts last week as the North Carolina Recreation and parks Association Arts and Humanities Award winner.
NCRPA presents its annual awards to recognize the most innovative and effective arts and humanities programs of parks, recreation and leisure service agency members of the association. Through the state awards, recognition is given to both the importance of arts and humanities programs and to the agencies that provide them.
Entries were judged on the basis of content, innovation, contribution to the community served, and expansion of interest in the arts and humanities. Program Supervisor Brent Harpe and Recreation Manager Chasity McCurdy accepted the award on behalf of the GRPD.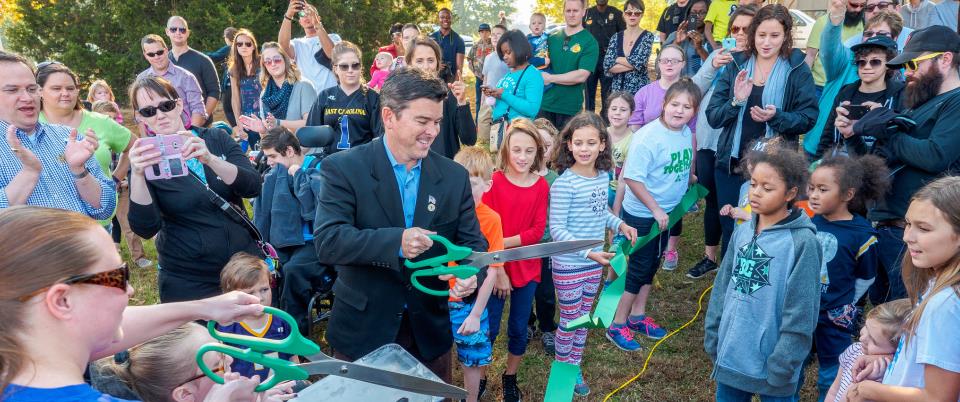 Creative Oasis is described by staff and those who have witnessed the program as an opportunity like no other. The program for adults with special needs positively impacts the mental, social and physical health of participants, who learn and create through a curriculum that is unique and interesting.
Creative Oasis is as whimsical, clever, creative and unique as its designer. Staff member Lisa Jordan was brought on board to create a program that would engage participants and increase experiences available to those with special needs. As a parent of a child with special needs, Jordan understood the importance of providing this unique art experience in the Greenville community. She has nurtured and created a learning, dynamic and artistic oasis for adults with special needs that's not found anywhere else.
"I always want to feel like oh my God, I just cannot believe we did this in class." Jordan says. "We wanted to create a space where we could give back everything we accidentally take away from those with special needs as far as access to experiences in life."
The mission is accomplished with painting, culinary, pottery, wood shop, adaptive PE, theater, music and science. Creative Oasis uses unique instructional methods, materials, learning aids, and adaptive equipment to explore and create through the use of art, math, and science as an approach to learning. These artistic activities directly exercise and strengthen the cognitive and physical skills that generally challenge the special needs population, such as oral, tactile, visual, sensory, and motor skills.
The program is provided for three 8-week sessions each year at the Drew Steele Center in Greenville. For more information about the program, contact Brent Harpe at 252-329-4541.