River Park North is a 324 acre nature park offering a variety of activities including boating, camping, fishing, hiking, picnicking, and a nature center. School, scout, church, and other groups are encouraged to visit.
The park is located at 1000 Mumford Road in Greenville (just down the street from PGV Airport).
Amenities at River Park North
Some amenities require fees and advanced reservations. For more information, please call 252.329.4560.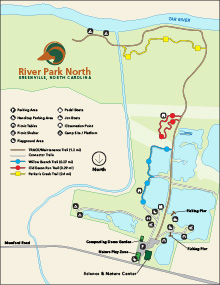 Fishing- 5 ponds, 2 piers
Rental fishing boats
Pedal Boating (Coming soon)
Camping-group camping area, 3 primitive campsites, 2 Drive-to sites
Wildlife observation platform
Hiking Trails
Fossil pit
Picnic Shelters with Grills (2), 40 total picnic tables
Sand volleyball court
Park Operating Hours
Summer Hours (May 1-August 31): 6:00 AM - 8:00 PM
Fall Hours (September 1-October 31): 7:00 AM - 7:00 PM
Winter Hours (November 1-February 28): 8:00 AM - 5:00 PM
Spring Hours (March 1-April 30): 7:00 AM - 7:00 PM
Actual park hours may vary due to sunset/sunrise time. Please contact River Park North for current hours.
After Hours Contacts
Park Ranger 252.258.3839
Non-Emergency Police 252.329.4315
Walter L. Stasavich Science & Nature Center
Come see the 70-seat theater, 10,000 gallon freshwater aquarium, live turtles and snakes, wildlife dioramas and the "Shells Are Everywhere" exhibit. There are also several hands-on/interactive exhibits to enjoy. Schools, scouts, and organized groups may call in advance to schedule a visit. For more information contact River Park North at 252-329-4560.
Operating Hours:
Tuesday-Saturday 9:30 AM - 5:00 PM
Sundays 1:00 - 5:00 PM
Mondays Closed
Admission Fee
City Residents
Ages 11 and younger - $1
Ages 12 and older - $2
Non-Residents
Ages 11 and younger - $1.50
Ages 12 and older - $3