Aquatics & Fitness Center
GAFC re-opened on Friday, September 4, 2020 at 5pm. The health and well-being of our members and employees will be the top priority and therefore several safety measures, facility changes and capacity restrictions have been implemented. Details are outlined below.
Governor Cooper has issued additional COVID-19 safety measures to tighten mask requirements and enforcement as cases continue to rise rapidly in NC and across the Country. Executive Order No. 180 that went into effect on Wednesday, November 25 at 5pm. The Order adds the mask requirements to additional settings including any public indoor space even when maintaining 6 ft of distance; gyms even when exercising; all schools public and private; & all public or private transportation when traveling with people outside of the household.
If you plan to use GAFC, you must wear a mask while inside the facility. Facemasks are not required while using the pool or showering. If you are not able to wear a facemask while exercising, please contact us to freeze your membership.
North Carolina has recently increased the capacity limits of pools and we are updating our policies accordingly. In order to still maintain safe social distances will we implement the following beginning April 12th. The reservation system will remain in place at this time.
3 lap lanes will be shared with each swimmer starting at the opposite end of the pool creating a total of 6 spaces. Swimmers will utilize one half of the lane, divided by the black line on the pool bottom. If swimmers need to rest we ask that they do so on the end where they started.
Lifeguards will assist with adjusting lanes to accommodate entrance and exit needs.
Recreation spaces will increase to 4 individuals or one family per side.
Aqua fitness classes will increase by two spaces per class.
Member's guests and walk-ins are not allowed to reserve pool time but can use the pool if capacity allows during their visit.
Thank you for your time and patience as we continue to try to provide a safe, fun environment for all.
Facility hours:
Monday 5:30am-8pm
Tuesday 5:30am-8pm
Wednesday 5:30am-8pm
Thursday 5:30am-8pm
Friday 5:30am-7pm
Saturday 8am-3pm
Sunday 1pm-6pm
· Pool reservations will begin on the half hour (5:30am, 6:30am, etc.)
· Limited Group Fitness Classes will be held in the basketball gym.
· Member's Guests and walk-ins will be allowed to use the facility if we are not at capacity but will not be able to reserve time in the pool. Otherwise, normal Guest policies will be followed.
· Water bottle filling stationed will be turned on; all other water fountains will remain off
Other Points of Interests
· Pickleball has been added back
· Towel service continues
· Showers are turned on
· Locks can be checked out
· Members need to bring their own basketball
For those members using other areas besides the pool, you will be given a bottle of disinfecting cleaner and towel for you to wipe down equipment during your workout. There is a designated area for you to return these so staff can clean them.
Our Kids Play Area (KPA) will remain closed until further notice. Youth must be 14 years old to use strength machines, free weights and cardio equipment unless previously trained. To use the pool, children 5 and under must have an adult within an arm's reach and children 10 and under must have an accompany adult 16 or older or pass a swim test. Children must be 10 years old to be left alone in the basketball gym. Unfortunately we currently do not have waiting area for children while parent's workout.
As a reminder, we draft at the end of the month and will be running drafts on or around the 28th of the month. If your banking information or debit/credit card has changed, please update your information at the front desk.
For our safety measures and capacity limits, please click HERE.
The Greenville Aquatics & Fitness Center is a membership exercise/wellness facility operated by the Greenville Recreation & Parks Department. We offer an indoor heated pool, strength training equipment, cardio equipment, swim lessons, and a basketball court. This family oriented facility provides a wide range of activities and equipment to help get you in shape and feeling your best.
Check Us Out!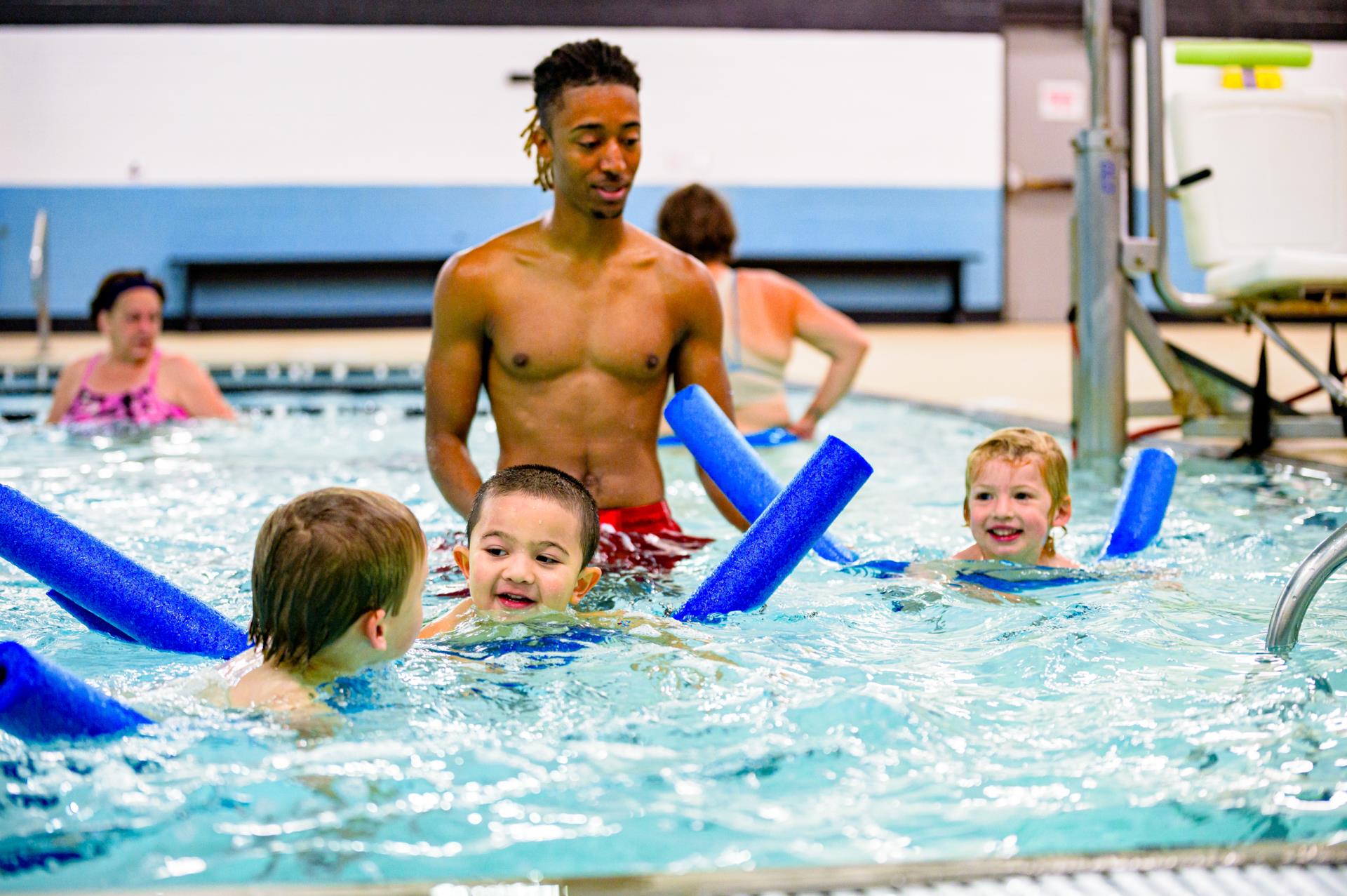 Stop by for a tour or call us at 252-329-4041 for more information.
Click here for membership pricing