We are not offering group exercise classes until further notice.
We offer a variety of group fitness classes that are included in your membership. Below are class descriptions to help you determine which class is best for you.
Aerobics: Blast your cardio fitness to the next level. This class provides the variety your body needs to see results by combining fun cardio routines with specific muscle conditioning. This is a great time to enjoy the music & feel the burn!
CORE experience: ABS, back & hips are our power house of strength – this 30 minute workout will get you strong, shapely and balanced!
High Voltage: A training technique which involves intense bursts of high-intensity exercise followed by varied periods of low-intensity active rest, or complete rest. High Voltage can be a great option for staying in shape when time is an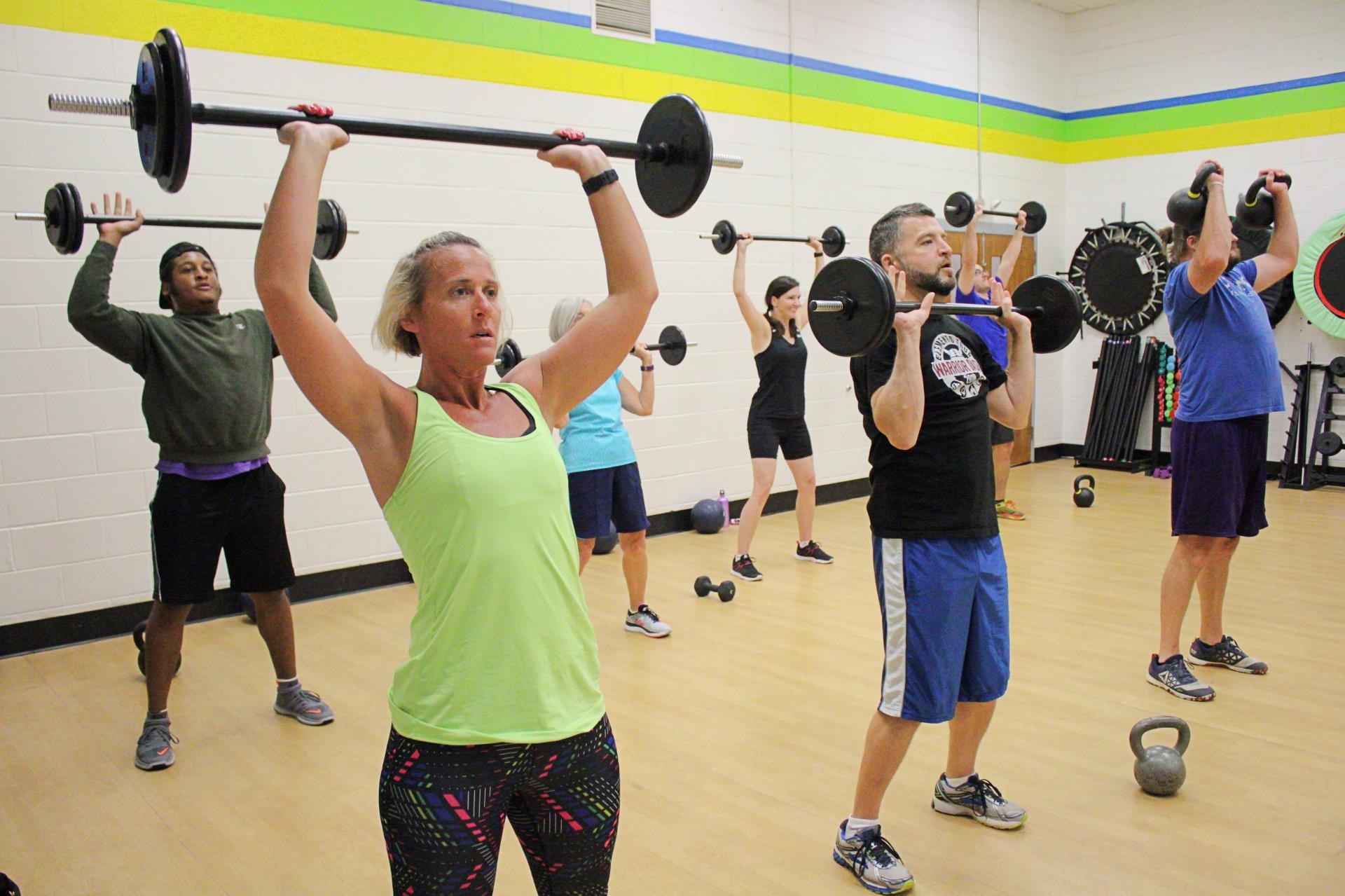 issue, as you can get an amazing fat-burning workout in 30 minutes or less. The true benefits of High Voltage come from its effects post-workout! High Voltage has been shown to elevate the metabolism for hours after your workout, essentially turning you into a fat burning machine.
Men's stretch: postural exercises guaranteed to improve posture, increase flexibility, improve balance, core strength and reduce joint & back pain.
Pilates: The focus of Pilates lies with the muscles of your powerhouse - your core muscles: abs, back & hips. While the routine focus is core, we'll work to gain power, control, balance & flexibility in all muscle groups. We offer two Pilates options: a one hour Gentle Pilates offering basic Pilates movements with additional stretches to improve your flexibility and provide that "aah" moment and a 30 minute traditional Pilates class. Take either or both!
Soft ROLLER workout: like self-massage, you roll kinks and aches out of the muscle and connective tissue which improves range of motion & hydration, getting rid of pain!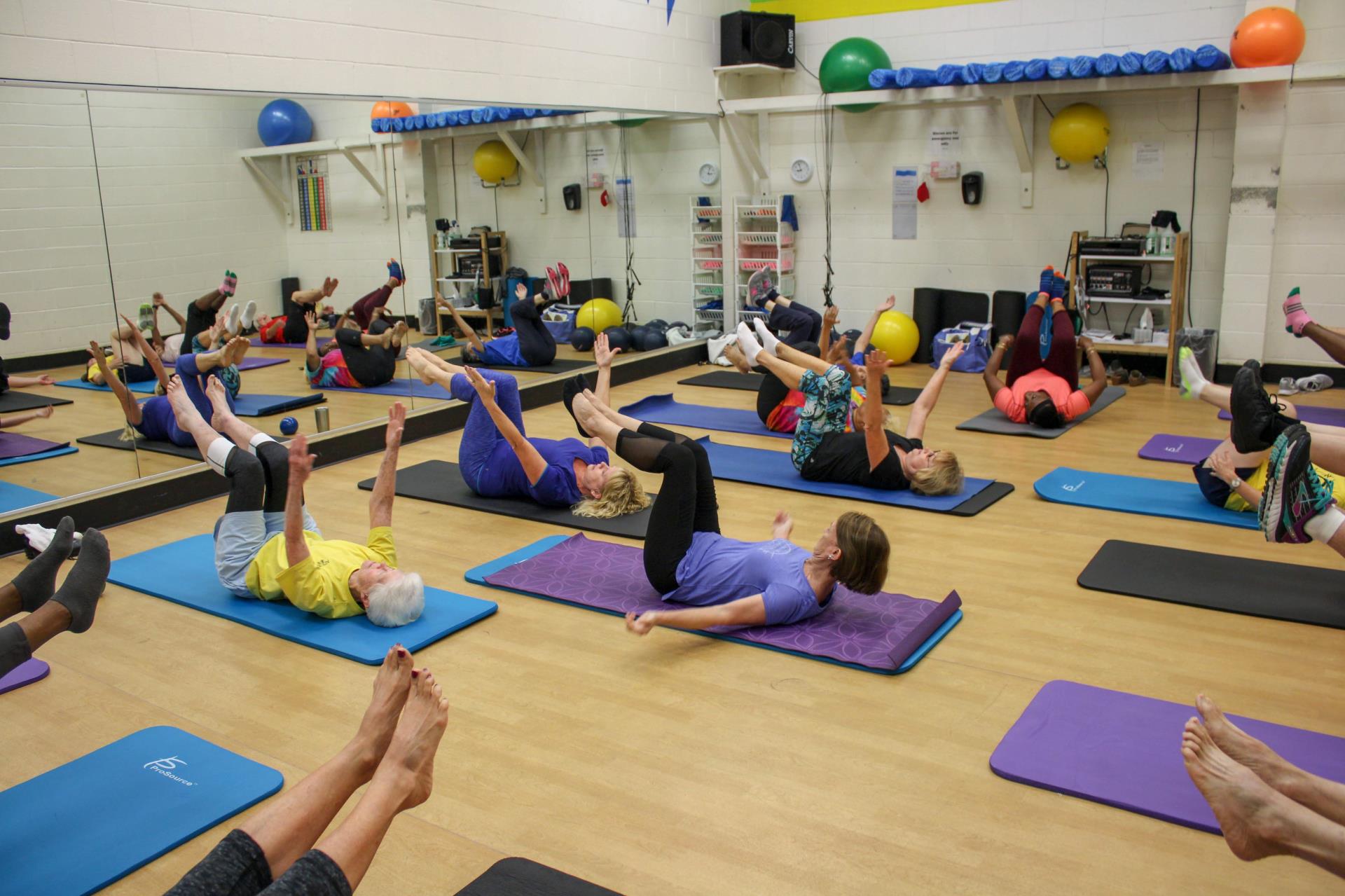 Stretch and Flex: This no-impact class does just what it says! It stretches you & tones you all in one fun, fitness class. Light weights & resistance equipment may be used to increase toning opportunities.
HIIT: High Intensity Interval Training – this training has many forms but primarily involves moving from one exercise to another in set periods of time. Each interval varies from 1-3 minutes alternating between strength & cardio. Cardo work can include hi/lo aerobics, toning and strength work can include resistant bands, dumb bells, kettlebells, medicine balls and body bars.
TRX Circuit: This class is a total body workout! Circuit training allows you to move through a variety of strength and cardio stations utilizing Kettlebells, body weight exercises and, of course, the TRX. Come ready to sweat!
Yoga: Practicing yoga will develop flexibility & muscle tone, while allowing the mind to calm releasing stress & tension. Yoga is a practice suitable for everyone, regardless of age, body type, health, & past fitness experience.
ZUMBA: Dance, laugh & burn those calories! This vibrant, energy-filled calorie burning phenomenon brings hypnotic Latin rhythms with easy to follow dance moves that will have you moving & grooving to a sexier shape!
Strong by Zumba: Music led interval training! Combines body weight, muscle conditioning, cardio and plyometric training moves synced to original music that has been specifically designed to match every move.
Zumba Gold: A modified Zumba class that recreated the original moves you love at a lower-intensity. The design of the class introduces easy-to-follow Zumba choreography that focuses on balance, range of motion and coordination.
Zumba Gold and Tone: Same class as Zumba Gold but with circuits of band and weight exercises mixed in.
Line Dancing: Line Dancing is a fun exercise all ages can do providing a low impact workout. Wear comfortable clothing & shoes!
Kid's Classes
Kid Fit: Class designed to get youth active, with fun workouts varying in focus, from core strength to cardiovascular health. Classes will consist of mostly bodyweight exercises that are easy to perform and safe for kids.
Kids Yoga: Yoga for children classes are intended to be fun and may include age-appropriate games, animal sounds and creative names for poses.