We are looking forward to a safe and fun 2019!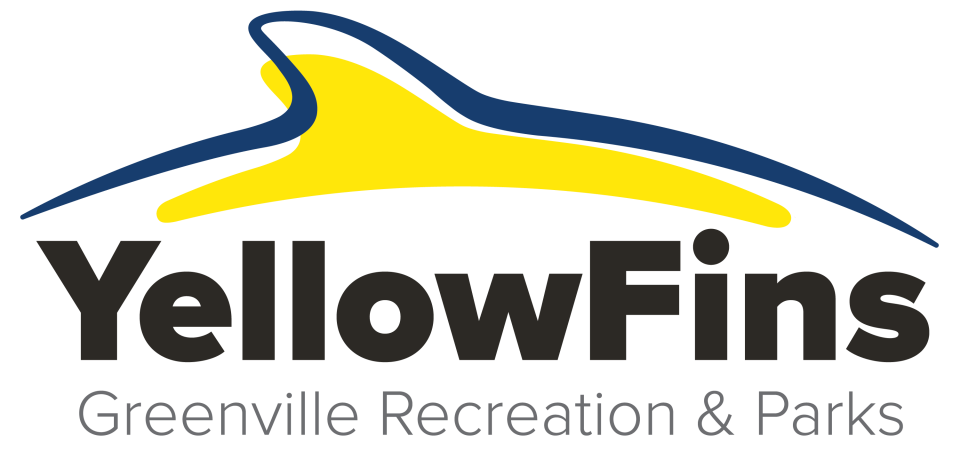 New this year! You can now register online, just click on the link. Register Online
Program Number 101030.01
YellowFins Summer Swim Team is a proud member of the Greenville Area Summer Swim League. Participants will attend weekly practices and compete in competitive swim meets each Tuesday (beginning June 9), as well as Championships at the end of July. We ask that each swimmer try to participate in at least two practices a week. Practices will be held at Aquatics & Fitness Center and the Greenville Community Pool at Guy Smith Park. Fee includes GASSL dues, swim suit, swim cap and team shirt. Participants should be able to swim 25 yards before beginning program. Swim evaluations are available upon request. Informational meetings April 20 and April 29. Parents will be asked to help facilitate swim meets. Visit greenvillenc.gov for more detailed schedule or email dinman@greenvillenc.gov for more information.
Tentative Practice Schedule
| | | | |
| --- | --- | --- | --- |
| Mondays & Wednesdays | May 11 - June 3 | 6:30 - 8:30 PM | Greenville Aquatics and Fitness Center |
| Thursdays | June 11 - July 23 | 6:30 - 8:30 PM | Greenville Aquatics and Fitness Center |
| | | Ages 8 & under | 6:30 - 7:30 PM |
| | | Ages 9 & up | 7:30 - 8:30 PM |
| Sundays - (All Ages) | June 7 - July 19 | 6:00 - 8:30 PM | Greenville Aquatics and Fitness Center |
| Mondays & Fridays - (All Ages) | June 8 - July 24 | 8:45 - 9:45 AM | Greenville Community Pool |
Fee: $150; Discounted Greenville Resident: $100; GAFC Member $80
Minimum Skills Evaluation:
Swimmers age 8 & Under (as of June 1, 2020)
- 25 yard Freestyle (no flotation device or stopping)
- 25 yard Backstroke (no flotation device or stopping)
Swimmers age 9-18 yrs (as of June 1, 2020)
- 50 yard Freestyle (no flotation device or stopping)
- 50 yard Backstroke (no flotation device or stopping)
Registration Packet (Available 3/16/20):
- GASSL Registration Form [Form A, Form B]
- GRPD Registration Form [SST Registration Form]
- GASSL Code of Conduct [GASSL Code of Conduct]
---
2020 YellowFins Swim Meet Schedule: To Be Announced
| | | |
| --- | --- | --- |
| 6/9 | | |
| 6/16 | | |
| 6/23 | | |
| 7/7 | | |
| 7/14 | | |
| 7/21 | | |
| 7/25 & 7/26 | | |
Schedule Key
- ACC: Ayden Country Club
- MGS: Minges Makos
- GRPD: Greenville Recreation & Parks YellowFins
- GCC: Greenville Country Club Frogs
- ICC: Ironwood Country Club Stingrays
- CORC: Cherry Oaks Torpedoes
- TSC: Tarboro Swim Club Dolphins
- BVCC: Brook Valley Country Club Barracudas
- WWST: Windsor Waves
- WSC: Washington Swim Club Whitecaps