We are looking forward to a safe and fun 2021!
YellowFins Summer Swim Team is a proud member of the Greenville Area Summer Swim League. Participants ages 5 to 18 will attend weekly practices and compete in swim meets each Tuesday (beginning June 15), as well as Championships at the end of July.
We ask that each swimmer try to participate in at least two practices a week. Practices will be held at the Greenville Aquatics & Fitness Center and the Greenville Community Pool at Guy Smith Park.
Fee includes GASSL dues, swimmingly app, swim suit and swim cap. Fee: $150; Discounted Greenville Resident: $120; GAFC Member $100
Participants should be able to swim 25 yards before beginning program. Swim evaluations are available upon request.
Informational meetings for families will be held on May 12 at 6:30 PM and May 17 at 6:30 PM.
Parents will be asked to help facilitate swim meets.
Please call 252-329-4041 for more information or with any questions.

Online Registration
Swimmers can be registered online at YellowFins Registration or at any City of Greenville recreation facility.
Tentative Practice Schedule
Mondays & Wednesdays June 14-July 28 8:45-9:45 AM Greenville Community Pool (All Ages)
Tuesdays & Thursdays June 1-July 29 5:15-6:15 PM Greenville Community Pool (8 and younger)*
Tuesdays & Thursdays June 1-July 29 6:15-7:30 PM Greenville Community Pool (9 and older) *
Sundays June 6-July 25 5:45-6:45 PM Greenville Aquatic and Fitness Center (8 and younger)
Sundays June 6-July 25 6:45-8:00 PM Greenville Aquatic and Fitness Center (9 and older)
Practices from June 1st and June 3rd will be at the Greenville Aquatics & Fitness Center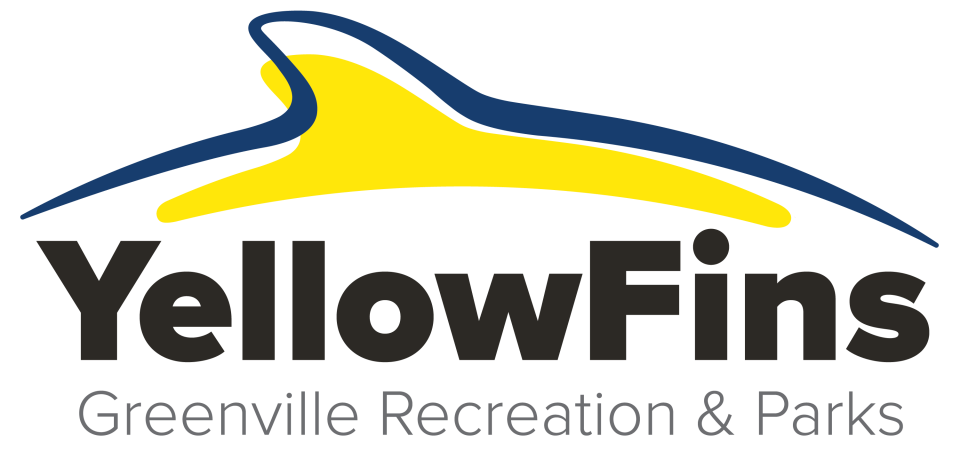 Yellowfins 2021
Swim Meet Schedule
*Swim meets typically start at 5:30pm with warmups at 5:00pm*
June 8th Swim for Life @ Ironwood County Club
June 15th Kinston Kingfish @ Greenville Community Pool
June 22nd Tarboro Marlins @ Greenville Community Pool
June 29th Washington White Caps @ Moore Aquatic Center
July 13th Brook Valley Barracudas @ Ironwood Country Club
July 20th Cherry Oaks Torpedoes @ Cherry Oaks Pool
July 27th Aquaventure Tridents @ Aquaventure
July 31 & August 1st league Championships
@ Tarboro Community Pool
*2021 Season Yellowfins will swim with Ironwood Country Club Swim team during meets*