Facility Directory Table List
Greenville Outdoors Aquatic Center

Phone:

(252) 329-4563

Amenities:

Locker Rooms

Categories:

Recreation Facilities
Summer Season 2023
Schedule:
Weekends Only (Saturday & Sunday)

May 27-29. Includes Memorial Day.
June 3-4
June 10-11

Normal Operation
Weekends Only (Saturday & Sunday)

August 19-20
August 26-27
September 2-4
Features:
Bathhouse
Swimming Pool
Shaded Area
Daily Fees:
$4 Resident/$6 Non-Resident (Children under age 1 free with paid adult)
Season Passes:
Individual pass: $30 Resident/$45 Non-Resident
Family pass (up to 6 family members) $60 Resident, $90 Non-Resident
Public Swim Hours:
Monday: Closed
Tuesday- Friday: 1:30pm-6:00pm
Saturday: 12:00pm-5pm
Sunday: 1pm-6:00pm
Pool Rules
Please help us to make safety our #1 priority by following the rules.
All children 14 & under must be accompanied by an adult over the age of 16 (ID required). All children age 5 & under must be within arm's reach of an adult when in the pool. Children may not be left unattended.
Swim tests will be required to use the 4 foot + areas for those that cannot stand in deepest part of lap pool. Swimming aids for small children may be borrowed with ID.
No glass, pets, alcohol, illegal substances, smoking, hard candy or gum allowed.
Food and drink are not allowed on the pool deck and may only be consumed in the picnic area. Please clean up after yourself. Coolers may be checked by staff.
Shower before entering the pool. Swimmers with open sores, casts, wounds or cuts may be prohibited from pool use. Swimmers that have recently had diarrhea should not use the pool.
Please do not go to the bathroom in the pool. Children not yet toilet trained and those with incontinence issues must wear swimming briefs or waterproof bottoms. Swimmers that have recently had diarrhea should not use the pool.
Appropriate bathing attire required. Bathing attire should cover swimmer and should not impede swimming ability. Please do not change children in the locker rooms.
Toys are allowed at the discretion of aquatic staff. Flotation devices not approved by the U.S. Coast Guard are considered toys.
Walk, don't run around the pool
Rough play, bullying, profanity and excessive public displays of affection are not allowed.
Jumping in is allowed; diving, jumping backwards or holding hands while jumping are not allowed. Do not jump on anything or anybody.
The pool may close for inclement weather or body fluid accidents. No refunds will be given in such cases.
Not responsible for lost or stolen items.
Listen to instructions from the aquatic staff.
Failure to follow pool rules may result in ejection.
Please have a safe & fun time!
Groups and camps are admitted by reservation only; for reservations call 252-329-4043.
---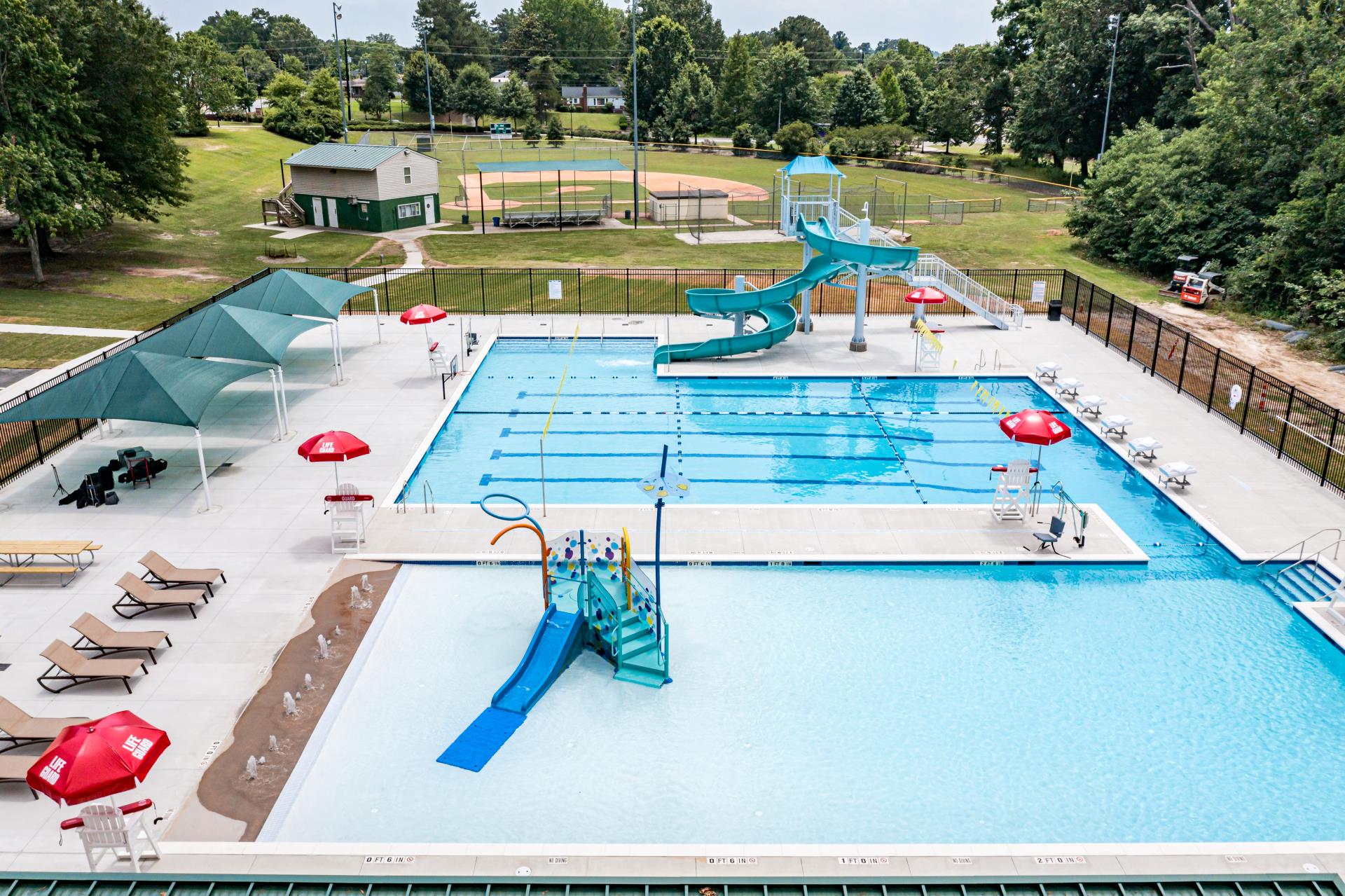 Return to full list >>