The Town Common is Greenville's central park. Located at 105 East First Street, the Town Common features 21 acres of open green space located adjacent to the Uptown Greenville District. The Town Common is connected to the Tar River Greenway by paved walkways, the Town Creek Bridge, and a 1,500-foot river walk along the Tar River. Feeding into the Pamlico Sound, this peaceful river provides opportunities for fishing, boating, and kayaking.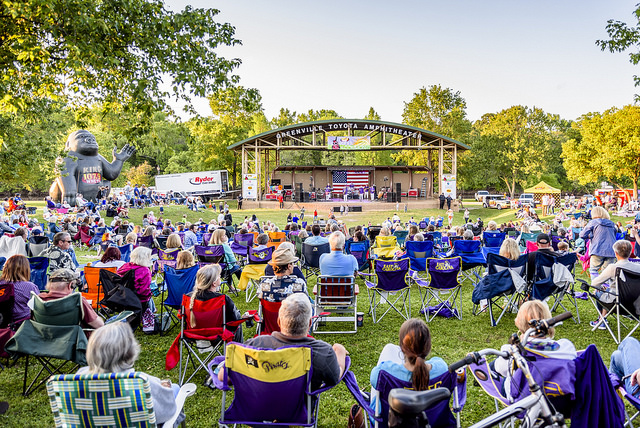 The river also serves as a beautiful backdrop for the Greenville Toyota Amphitheater, where the community comes together to relax and enjoy a variety of events including live music during concert series such as Sunday in the Park and the Concert on the Common, music, family fun and more at PirateFest, Exercise in the Park, and many other annual events.
For more information about the Town Common or to book your own event at Greenville's "Central Park", call the Recreation and Parks Department at (252) 329-4567.
Scheduled Events at Town Common

| | | |
| --- | --- | --- |
| Date | Event | Time |
| March 9, 2019 | Kinetic Physical Therapy Annual 5K and Fun Run | TBA |
| March 23, 2019 | Triangle Down Syndrome Buddy Walk | 8:00 a.m. |
| March 29, 2019 | Movie in the Park | Sunset |
| April 2, 2019 | Yoga in the Park | 6:00-7:00 p.m. |
| April 4, 2019 | Zumba in the Park | 6:00-7:00 p.m. |
| April 6, 2019 | Cystic Fibrosis Foundation | 8:00 a.m. |
| April 9, 2019 | Yoga in the Park | 6:00-7:00 p.m. |
| April 11, 2019 | Zumba in the Park | 6:00-7:00 p.m. |
| April 12, 2019 | PirateFest - Mikele Buck & Jimmie Allen | 5:00-9:00 p.m. |
| April 13, 2019 | PirateFest - Biz Markie & Tone Loc | 8:00 a.m.-8:00 p.m. |
| April 16, 2019 | Yoga in the Park | 6:00-7:00 p.m. |
| April 18, 2019 | Zumba in the Park | 6:00-7:00 p.m. |
| April 23, 2019 | Yoga in the Park | 6:00-7:00 p.m. |
| April 23, 2019 | Concert on the Common | 5:00 p.m. |
| April 25, 2019 | Zumba in the Park | 6:00-7:00 p.m. |
| April 27, 2019 | Autism Walk | TBA |
| April 30, 2019 | Yoga in the Park | 6:00-7:00 p.m. |
| May 2, 2019 | Zumba in the Park | 6:00-7:00 p.m. |
| May 4, 2019 | Nulook Steppaz First Line Dance Community Day | TBA |
| May 7, 2019 | Yoga in the Park | 6:00-7:00 p.m. |
| May 8, 2019 | Concert on the Common | 5:00 p.m. |
| May 9, 2019 | Zumba in the Park | 6:00-7:00 p.m. |
| May 11, 2019 | Annual MS Walk | 8:00 a.m. |
| May 14, 2019 | Yoga in the Park | 6:00-7:00 p.m. |
| May 16, 2019 | Zumba in the Park | 6:00-7:00 p.m. |
| May 17, 2019 | Movie in the Park | Sunset |
| May 18, 2019 | Pet Adoption Event (Humane Society of Eastern NC) | 8:00 a.m. |
| May 22, 2019 | Concert on the Common | 5:00 p.m. |
| May 25, 2019 | Field of Flags Opening | TBA |
| May 28, 2019 | Yoga in the Park | 6:00-7:00 p.m. |
| May 30, 2019 | Zumba in the Park | 6:00-7:00 p.m. |
| June 1, 2019 | March of Dimes - March for Babies | 8:00 a.m. |
| June 2, 2019 | Sunday in the Park - Tar River Community Band | 7:00-8:30 p.m. |
| June 4, 2019 | Yoga in the Park | 7:00-8:00 p.m. |
| June 5, 2019 | Concert on the Common | 5:00 p.m. |
| June 6, 2019 | Zumba in the Park | 6:00-7:00 p.m. |
| June 9, 2019 | Sunday in the Park - Emerald City Big Band | 7:00-8:30 p.m. |
| June 11, 2019 | Yoga in the Park | 6:00-7:00 p.m. |
| June 13, 2019 | Zumba in the Park | 6:00-7:00 p.m. |
| June 14, 2019 | Greenville Grooves Music Festival | 6:00-9:00 p.m. |
| June 16, 2019 | Sunday in the Park-East Coast Rhythm & Blues | 7:00-8:30 p.m. |
| June 18, 2019 | Yoga in the Park | 6:00-7:00 p.m. |
| June 19, 2019 | Concert on the Common - On the Border (Eagles Tribute) | 5:00-8:00 p.m. |
| June 20, 2019 | Zumba in the Park | 6:00-7:00 p.m. |
| June 21, 2019 | Movie in the Park | 9:00 p.m. |
| June 23, 2019 | Sunday in the Park - Russ Varnell & Too Country | 7:00-8:30 p.m. |
| June 30, 2019 | Sunday in the Park - Feebs Band | 7:00-8:30 p.m. |
| July 7, 2019 | Sunday in the Park - The Monterio Experience | 7:00-8:30 p.m. |
| July 14, 2019 | Sunday in the Park - The Monitors | 7:00-8:30 p.m. |
| July 21, 2019 | Sunday in the Park - Summer Brooke & Mountain Faith | 7:00-8:30 p.m. |
| July 28, 2019 | Sunday in the Park - Donald Thompson Band | 7:00-8:30 p.m. |