The Town Common is Greenville's central park. Located at 105 East First Street, the Town Common features 21 acres of open green space located adjacent to the Uptown Greenville District. The Town Common is connected to the Tar River Greenway by paved walkways, the Town Creek Bridge, and a 1,500-foot river walk along the Tar River. Feeding into the Pamlico Sound, this peaceful river provides opportunities for fishing, boating, and kayaking.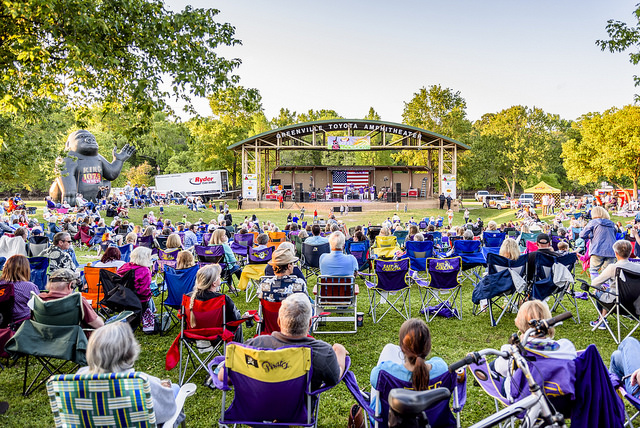 The river also serves as a beautiful backdrop for the Greenville Toyota Amphitheater, where the community comes together to relax and enjoy a variety of events including live music during concert series such as Sunday in the Park and the Concert on the Common, music, family fun and more at PirateFest, Exercise in the Park, and many other annual events.
Visit the Town Common to enjoy the Sycamore Hill Gateway Plaza, the inclusive playground funded by a grant from Trillium Health Resources, and the updated Town Creek Bridge where special events are held.
For more information about the Town Common or to book your own event at Greenville's "Central Park", call the Recreation and Parks Department at (252) 329-4567.
Scheduled Events at Town Common
The City of Greenville Recreation and Parks staff continue to follow guidelines to protect the health and safety of our patrons during the pandemic. Our programs and events for the fall and winter have been modified, and in some cases canceled, to address safety.
The department is actively monitoring public health guidance from local and state agencies and setting policy, modifications, and cancellations of programs & events accordingly. The Department will be issuing credits, transfers, or refunds for all canceled rentals affected by COVID-19.
Currently, the City has no large events scheduled for the Town Common due to restrictions on mass gatherings. Planned events may need to be altered. When changes occur, those adjustments will be announced.
We remain proactive in providing safe and quality experiences for our community.