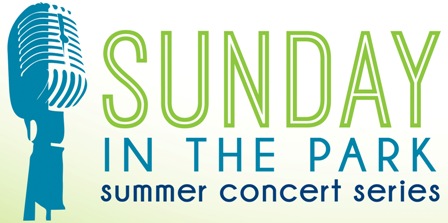 A Greenville tradition since 1973!
Free family fun and entertainment. This summer concert series is held at the Town Common on 1st Street. The 2018 schedule is listed below. All shows are at 7:00pm unless otherwise noted. Vendors on site and pet friendly.
Inclement weather hotline 252.758.7246. If you are interested in becoming a sponsor, please contact Ron Harris at 252.329.4698 or email him for additional information.
---
***For more information on each Artist , please click on the hyperlinks within the description.
June 3-Tar River Community Band
Tar River Community Band is a Greenville Sunday In the Park regular. They are a group of volunteer musicians from the Greenville area. Directed by James Mauser, they specialize in marches, show tunes, jazz, swing and classical music.
June 10-The Wannabees
If you like the Beatles, Three Dog Night, Grand Funk, Eagles , Tommy 2 Tone, etc. Then The Wannabees is is the concert for you. Featuring the awesome drummer from the 90's band Cry Of Love & Hall of Fame band Nantucket, Jason Patterson.This band features excellent musicians and has been performing since 1994. First time appearance at Sunday In The Park.
June 17-Brad Hudson Band
Brad Hudson has been a talented musician since the age of 6. Playing multiple instruments,he has been pleasing audiences with his musicianship and outstanding vocals for years now. He has performed with many Nashville artist, such as Dolly Parton, Randy Parton, Don Cox, Lorraine Jordan,while also being an opening act for Collin Ray & Eric Church. He has been nominated for Dobro, and Bass Player of the Year, by the SPBGMA. This will be a great show for Bluegrass and Country Fans. First time appearance at Sunday In The Park.
June 24-Gen-X
Gen-X is one of the best at bringing you 90's Rock and Roll. Covering such acts as Matchbox 20, Hootie and The Blowfish, Collective Soul, Tonic,and Fuel. Featuring four talented musicians and outstanding vocals from Mark Klaich. Voted #1 Rock band in eastern North Carolina 3 years running. First time appearance at Sunday In the Park.
July 1-Lydia Salett Dudley & Jazz Expressions
Lydia Salett Dudley is a Jazz pianist and singer from Raleigh, North Carolina. She will bringing her wonderful blend of Jazz composition to the Town Common stage. If you love Jazz and Vocal Jazz, then this is the show for you. Lydia released her composition called "SUNSETS" which was featured on UNC-Chapel Hill's Vibe in 2010. She completed her Masters in Jazz Composition at North Carolina Central University in 2016. First appearance at Sunday In The Park.
July 8-Kaylin Roberson Band
Kaylin Roberson is a Country and Country Pop Artist out of Raleigh, North Carolina.She is starting to make a name for herself all along the East Coast. She was awarded Deep South Entertainment's Open Mic Champion in 2015, Clayton's Teen Idol in 2016, as well as North American CMA International Female Vocalist of the Year New Country 2016. Kaylin will be bring today's Hot Country, as well as her own music from her album "Runner Up ". She has a powerful voice beyond her years. Playing multiple instruments, she will bring a Great show to the Town Common stage. First time appearance at Sunday In The Park.
July 15- The Monitors
Performing an array from early Jazz to Rhythm and Blues, The Monitors have been a Sunday in the Park crowd favorite for over 40 years. They are known to get large audience participation for the Electric Slide and other dances.
July 22-Built For Comfort
Built For Comfort features Greenville & Fountain native and former Cold Sweat member Lady Spain on guitar and vocals, along with legendary Attic Night Club Sound Master, Joe Tronto on drums. This Band has been providing much comfort to the Eastern NC area the past couple of years. If you like great old fashion blues, then this is the concert for you. 2nd time at Sunday In the Park.
July 29-Song From The Road Band
Songs From The Road Band is a North Carolina based Supergrass Supergroup featuring IBMA and Grammy Award Winner Charles R Humphrey III; James Schlender Two Time National Fiddle Player Champion; Mark Schimick Mandolin Extraordinaire; Sam Wharton from the Telluride scene on guitar and lead vocals; & Ryan Cavanaugh's cool hands on the 5 String Banjo where he has grace the stage with the likes of Doc Watson & Doug Dilliard. This will be a truly pure All-Star progressive Blue-Grass Band that you do not want to miss.First time appearance at Sunday In The Park.
August 5- Brice Street Band
For those of you who frequented the Attic in the late 70's and 80's will surely remember Brice Street. If you love Classic Rock such as Jackson Brown, Little Feat, Steely Dan, Beach Boys, then this is the concert for you. Once called the" Best Party band Of The South," the name still holds true today. Do not miss this legendary band. First time appearance at Sunday In the Park.
August 12-Castaways Band
The Castaways one of North Carolina's oldest award winning Beach Music bands. Formed in 1961 in Durham, NC, they perform a perfect mix of Beach, Soul, and Rock and Roll. Their original music can be heard on Beach Music radio shows throughout the southeast. Get your "Shag Shoes" on ! 2nd appearance at Sunday In The Park.
August 19-Heartbreaker (Heart Led Zeppelin Tribute)
If you love the music of Heart and Led Zeppelin then Heartbreaker is the band for you. One of the best tributes on the East Coast, this band will "Rock You." Led by the singing duo Suzi Nelson and Joan Burton, they truly bring to life the music of the Wilson sisters. Powerful voices and a powerful multi-talented band bring you the power house hits of Heart and Led Zeppelin. Do not miss this season ending show. First time appearance at Sunday In The Park.