Welcome to the Greenville Aquatics and Fitness Center Aquatics Fitness page. On this page, you can find the latest updates about aquatics classes offered by the City of Greenville.
Aquatic fitness classes have resumed, please call 252-329-4041 to make a reservation.
Regular participation in water exercise classes can improve heart health and cardiovascular strength while also burning calories and toning your muscles. We offer a variety of class options that can help you accomplish your fitness goals.
All classes are rated for intensity and impact. We encourage participants to listen to their bodies and to do the class that best fits their unique needs and schedule.
What do the intensity and impact ratings mean?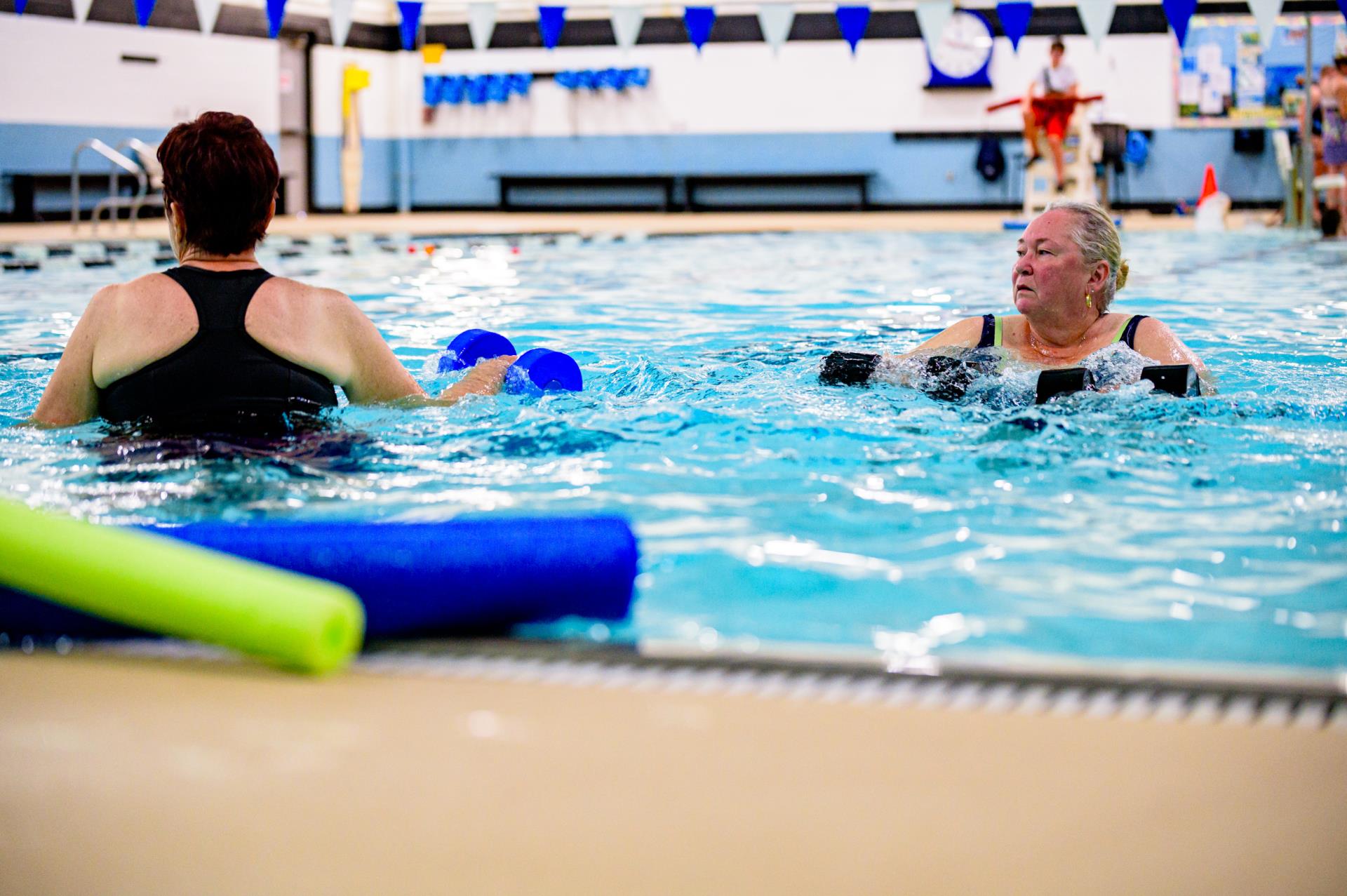 Intensity is how hard you can expect to work on a scale of 1-3.
· 1 is to gain or maintain flexibility, mobility and to physically reduce stress.
· 2 is to maintain or increase strength and/ or cardiovascular health.
· 3 is to increase strength and/or cardiovascular health and to reach maximum output.
Impact is the amount of stress put on joints, especially in the lower body on a scale of 1-3.
· 1 is low impact; it is great for those with feet, ankle, knee or hip issues and/or arthritis.
· 2 is medium impact; expect some jogging and jumping.
* Moves may be challenging or modified.
· 3 is high impact; expect core and limbs to be put through a rigorous workout.
*Please note some instructors may use music.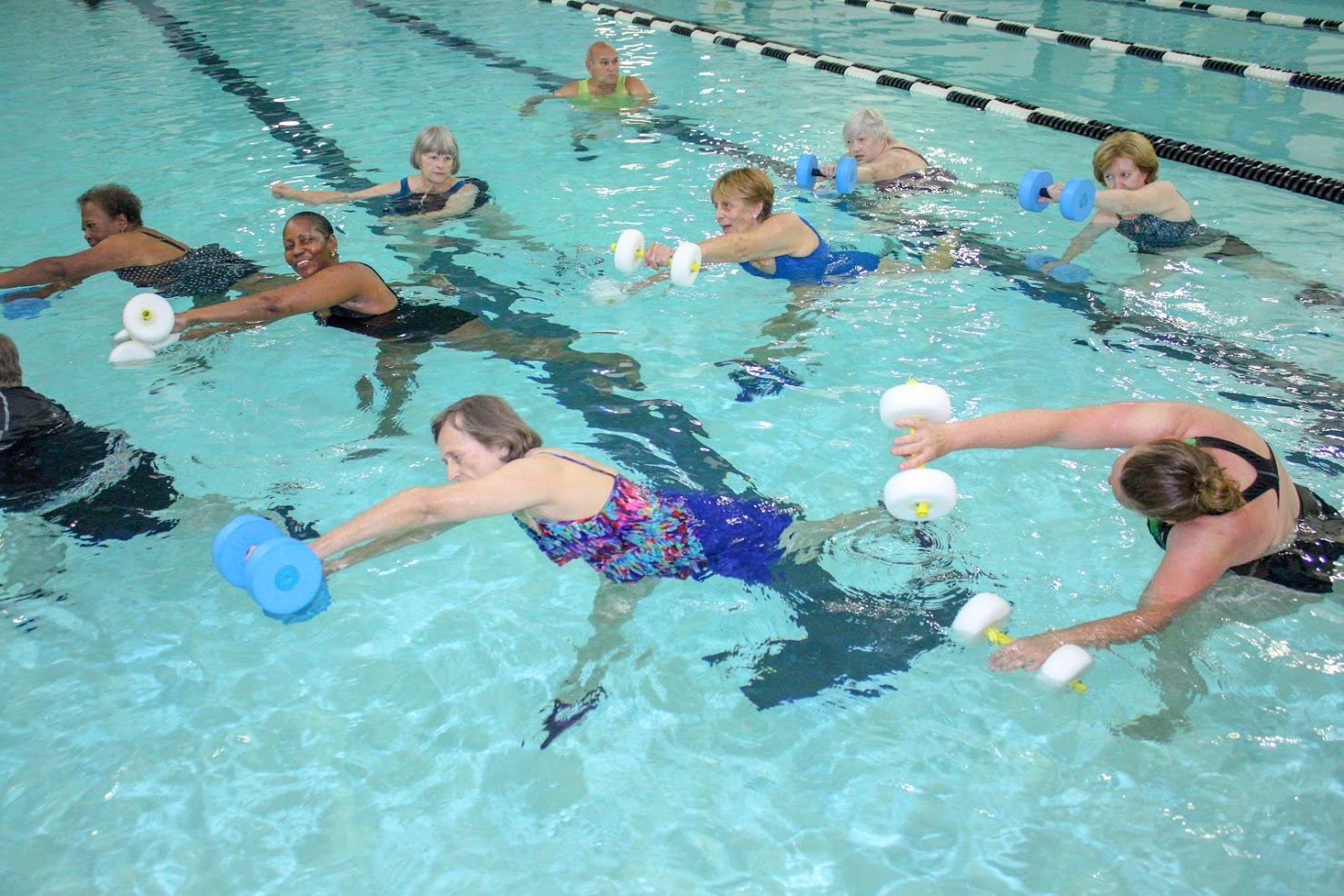 CLASS DESCRIPTIONS
Shallow Cardio
Intensity-2 Impact-2
This is a great beginner class to meet people and get a feel for the water. Whether you are new to the aqua aerobics or it is a favorite past time, this class will help maintain your current physical level or improve it. The focus of this class is to cardiovascular health.
Shallow Tone
Intensity-2 Impact-1
This class is a great way to improve muscle tone related to strength and balance. The natural resistance of the water and water aids will help to increase the intensity of the class without adding stress to lower joints. The goal is to improve overall fitness without joint pain.
Deep Water Cardio
Intensity 2 Impact 1
This class aims to increase cardiovascular health through traversing the pool, group exercises in 5-6 feet of water, along with a shallow water warm-up and cool down. This is a great all over workout with minimal joint impact. Floatation belts recommended.
Deep Water Tone
Intensity-3 Impact -2
A unique blend of a high intensity workout that does not put stress on the lower limbs. The goal is to increase muscle strength, expect to work major muscle groups especially arms and core. This class will help you to move your body in a variety of ways. Swimming ability strongly recommended although flotation belts may be used as well. Dumb bells will also be used as floatation aids, not recommended for anyone with shoulder injuries. Entire class will take place in 5-6 feet of water.
Aqua Arthritis
Intensity-1 Impact-1
Join us for a gentle way to improve overall health and well-being through choreographed stretching and exercises to make your whole body feel good. Recommended for people starting or returning to classes with arthritis or other mobility issues. Focus is on joint health and fluidity.