Comprehensive Master Plan
The City of Greenville Recreation and Parks Department invites you to participate in the development of the City's Recreation and Parks Master Plan. Your ideas and comments are a vital part of making this master plan a reflection of your needs and priorities.
Review the options below on how you can participate in the virtual and in-person opportunities.
We also invite you to participate in completing an online survey at Greenville P&R MP Online Survey. The survey is approximately 12-15 minutes in length, and you can come back to complete. The survey will be available until Monday, October 31, 2022. We ask that you complete as many questions as possible to assist in having comprehensive information.
Thank you for your time and important contribution to making Greenville an even better community!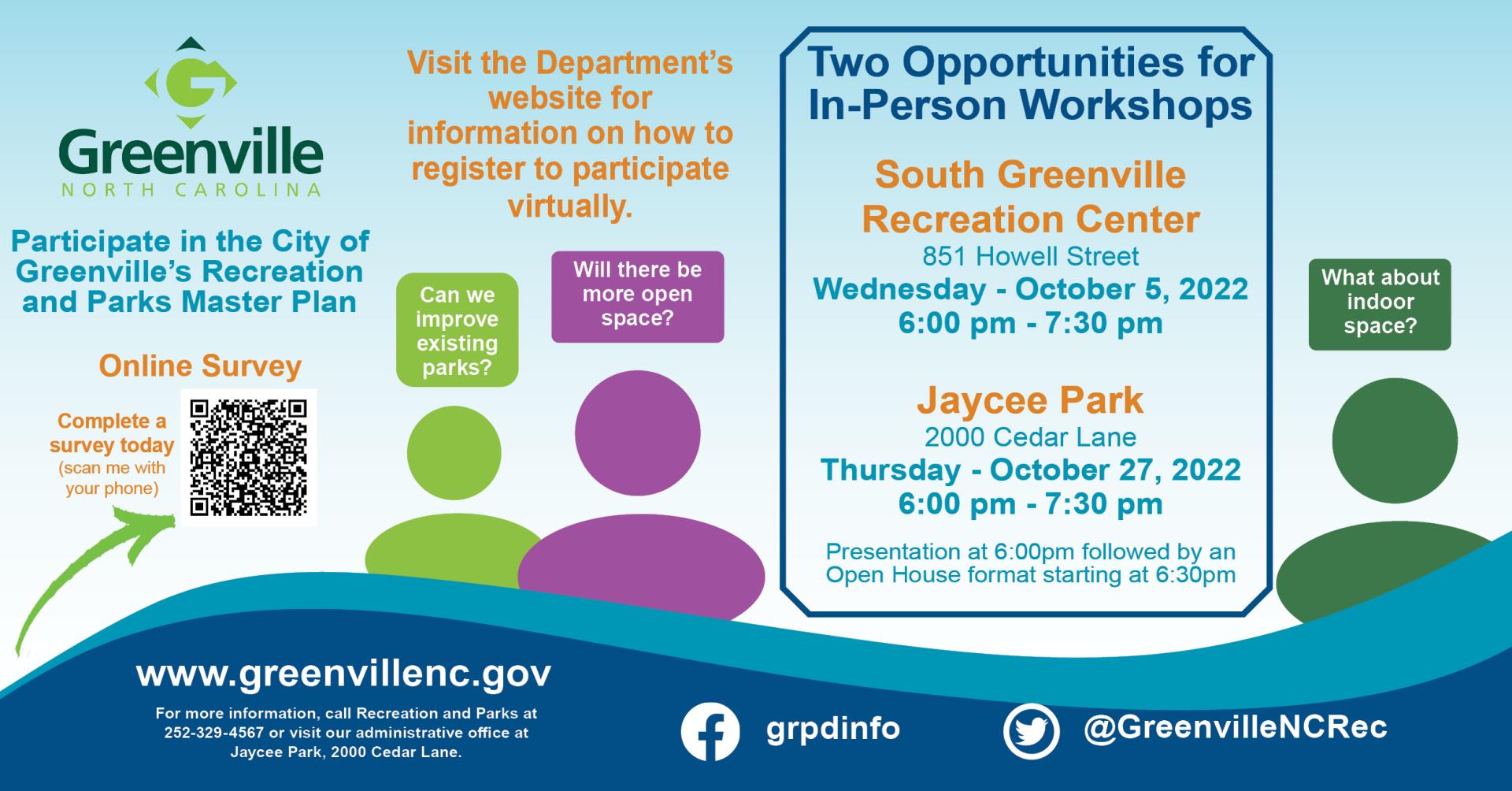 Registration Information Below
You are invited to a workshop. Register in advance by clicking on a link below:
Community Meeting Options (you can either register to participate virtually or participate in-person at the time/location shown below):
When: Oct 5, 2022; 06:00 PM – 7:30 PM ET South Greenville Recreation Center, 851 Howell Street
https://us02web.zoom.us/meeting/register/tZEsf-6hqjMtEtDDEpklnAn_Gc1sCKua4wEI
When: Oct 27, 2022; 06:00 PM – 7:30 PM ET Jaycee Park, 2000 Cedar Lane
https://us02web.zoom.us/meeting/register/tZUqc-ihpz4qHNQZpG7Y0jc7eUSmtuS66wyx
Previous Comprehensive Master Plan
Click here to view the previous Comprehensive Recreation and Parks Master Plan that was adopted in 2008.