Camp Escape is a high quality activity based summer camp specifically designed for campers with developmental and/or physical disabilities. This camp provides daily activities onsite for kids ages 5-21 while promoting social interaction. Participants will engage in recreational games, team building, arts and other fun activities. A parent/1:1 CAP worker may accompany their child to camp if the camper needs this accommodation, but Specialized Recreation staff will need to be aware of this at the time of registration.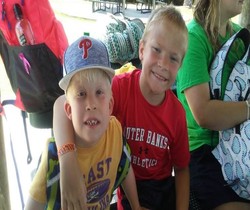 Location:
Drew Steele Center
2022 Camp Days, Dates, Times:
Monday-Friday
Ages: Times:
5-21 9am-3pm
Fee: $90 per session ($72 for Session 1 & Session 3)
Discounted Greenville Residents Fee: $60 per session ($48 for Session 1 & Session 3)
Camp Escape Application:
Please note: One on one workers who are not City employees must complete and pass a background check two weeks prior to attending camp with their camper.
For more information, please contact the Specialized Recreation team.
Brent Harpe at (252) 329.4541 or BHarpe@greenvillenc.gov
Cam McFarland at (252) 329.4270 or CMcFarland@greenvillenc.gov