Elm Street Storm Drain Improvement Project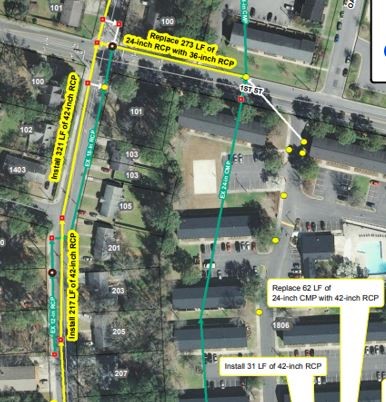 The Elm Street Storm Drainage Improvement Project will address flooding issues caused by outdated and undersized drainage infrastructure along Elm Street and some of its surrounding streets.
The Elm Street System collects drainage from approximately 58 acres along Elm Street and discharges directly into the Tar River. This drainage area is highly impervious and includes segments of Willow Street, Brownlea Drive, East Third Street, and East Fourth Street.
Models indicate that the majority of the system operates at or below a 2-year level of service, which is consistent with the reports of roadway flooding by citizens and City staff. Current City standards for new drainage systems require they operate at a 10-year level of service.
In addition, parts of the system are failing and have been repaired numerous times by the Public Works Department.
Proposed improvements will provide a 10-year level of service, and are estimated to install or replace more than 9,000 linear feet of pipe, along with 20 catch basins and/or drop inlets.