The Greenville Fire/Rescue's Educational Clown Team is an important part of our Fire Prevention Program. Each clown is a full time firefighter/paramedic when they are not "clowning" around. Bunkerz, with his buddies, Squirt, Edith, Buckets, and Nozzle have written and produced an entertaining and effective fire awareness program. Throughout the year, they instruct children in schools, daycare centers, and other educational groups on how to recognize fire and safety hazards. The fire safety message is appropriate for kids of all ages so we encourage parents and teachers to learn with us as well. Remember, education, is the key to preventing fires, saving lives and saving property.
To schedule a show contact Rebekah Thurston at 252.329.4679 or by email at rthurston@greenvillenc.gov.
Bunkerz Rulez for Schoolz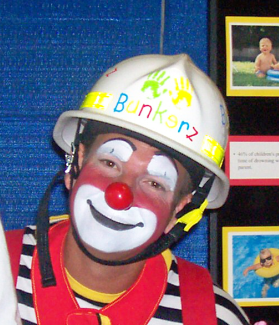 The audience count has to be a minimum of 30 children.
Because we are a municipal organization we will not perform for private or for-profit events.
Shows last approximately 30 minutes.
We need about 30 minutes to set up our equipment.
The area that the clowns will perform in and around should be clear.
We prefer to do the show on an elevated area, such as a stage, so that everyone will have unobstructed view.
We need about 30 minutes to take down our equipment.
While our Educational Clown Team does employ humor in its delivery on very serious topics, our show is not just for entertainment purposes. There is a very strong educational component to this very funny show. So enjoy, but be prepared to learn some live-saving stuff!
Hey Kids! Do you or any of your classmates have a fire or safety question for Bunkerz and the other clowns? If so, just email them your question and they will email you back with an answer! You can also email them with any comments that you might have.
Here is one of the Clowns' favorite websites!: