The City of Greenville owns and maintains four cemeteries: Brownhill, Cherry Hill, Greenwood, and Homestead Memorial Gardens.
General cemetery services offered are the sale of grave spaces, crypts and niches; grave openings/closings; maintenance of the cemetery properties; issuance of cemetery permits for installation of markers, monuments, and other memorials; and maintenance and preservation of burial records. For more information, please call 252.329.4522.
Citizens should contact local monument companies and funeral homes for the purchase or installation of memorials, vaults, and other products and services associated with burials. All cemetery fees and charges must be paid before use of interment spaces.
Locations of Cemeteries and Availability of Interment Spaces
All cemetery gates are open during daylight hours. Due to unmarked and unrecorded graves throughout the cemeteries, burial records prior to October 1984 are not available. Section, lot, and space alphabets and numbers used for locating gravesites are to be found on the curbing at the Brownhill and Greenwood cemeteries. In Homestead, the lot and space numbers are found on hubs.
Homestead Memorial Gardens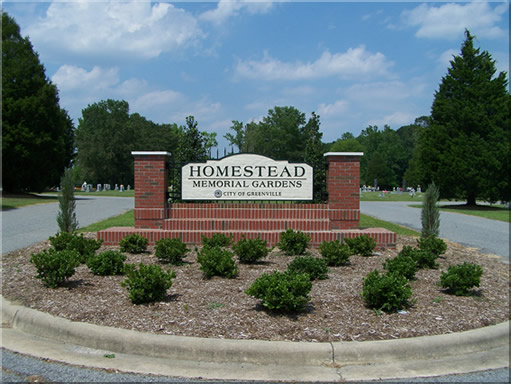 Homestead Memorial Gardens Cemetery has 30 acres of land for current use and future expansion. The cemetery was acquired by the City of Greenville on June 19, 2003.
Numerous single grave spaces are available for sale as well as niches, inside and outside crypts housed in the Main Mausoleum. The Hillside West Mausoleum has available outside crypts. Sixteen or less single grave spaces per lot are sectioned in seven gardens: The Cross, Fountain, Gethsemane, Hillside West, Honor, Peace, and St. Peters. There are no signs at Homestead identifying the location of the seven gardens. All grave spaces are sold as single graves.
4251 E. 10th Street Extension
(N.C. Highway 33, Near Portertown Road, across from Pinewood Cemetery)
---
Brownhill Cemetery
The City of Greenville acquired 19.09 acres for a cemetery "situated in the Greene Place, sometimes called Cooper Field" on October 10, 1939. Cooper Field is the oldest section of Brownhill.

There are no interment spaces available for sale at Brownhill Cemetery.

811 Howell Street
(Across from South Greenville)

---
Cherry Hill Cemetery
Cherry Hill is the oldest of the city-owned cemeteries. The City acquired this five-acre cemetery in 1872. It is known for its "many spires and tall columns in the lots…and massive stones usually richly ornamented on several lots."

There are no interment spaces available for sale at Cherry Hill Cemetery.

401 West 2nd Street
(Off of Pitt Street)

---
Greenwood Cemetery
The City acquired Greenwood Cemetery on November 8, 1924. One hundred and one acres were purchased at that time for a cemetery.

There are no interment spaces available for sale at Greenwood Cemetery.

2801 East Fifth Street
(Adjacent to St. Peter's Catholic Church)

---
Required Forms
A plot purchase form is required to purchase a grave lot in a City of Greenville Cemetery. This form must be filled out by the purchaser and submitted to the City of Greenville Public Works Department at 1500 Beatty Street.
Two (2) forms are required to process an opening and closing in a City of Greenville Cemetery. The cemetery service request form must be completed and submitted by the funeral home representative. The funeral home representative is also responsible to submit the Interment Directions completed by the person authorizing the use of a burial plot. Both forms need to be submitted to the City of Greenville Public Works Department at 1500 Beatty Street.
Other rules and regulations may apply. Please call 252.329.4522 for questions or concerns.