Greenville Hosts Metropolitan Mayors Coalition
Post Date:
05/18/2017 3:52 PM
GREENVILLE, N.C. - Large city mayors from throughout North Carolina visited Greenville on Thursday as part of a tour of eastern North Carolina designed to build bridges between the urban, suburban, and rural parts of the state.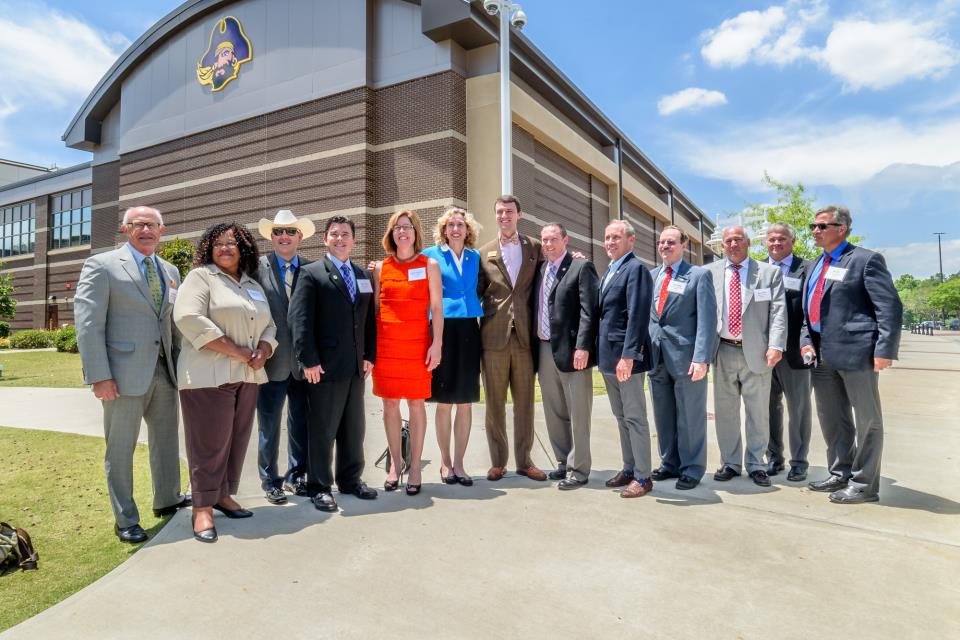 The tour, organized by the N.C. Metropolitan Mayors Coalition, highlighted investments being made in transportation, downtown development, and parks to stimulate private investment. Participants were able to learn more about some of the revitalization efforts in Greenville and other successful economic development projects.
"What happens in this part of the state matters in every part of the state," Greenville Mayor Allen Thomas said. "By bringing mayors from throughout the state to eastern North Carolina, we can show off some of the things that we have going on here, we can develop a better understanding of how we work together, and we can discuss opportunities, share information about initiatives and ideas, and talk about how we can work together on economic development."
The day began with mayors and other guests tossing around footballs on the field of ECU's Dowdy-Ficklen Stadium. The meeting then commenced with a luncheon that included comments from North Carolina Representative John Bell (R-Wayne), Google's Lilyn Hester and a presentation of a crisis communications study by students from Duke University.
Following the luncheon, mayors visited the East Carolina University Innovation Design Lab where researchers, inventors and businesses conceive and develop sustainable new product design concepts using state-of-the-art software. Following a windshield tour of revitalization and economic development projects in Greenville's center city, the group traveled to ECU's Robotics Research and Training Center where surgeons from around the world are trained in robotic cardiac and mitral valve procedures.
The final stop in Greenville was the James and Connie Maynard Children's Hospital at Vidant Health. Afterward, the mayors traveled to Kinston where they toured the Arts and Cultural District, the African American Music Park, the Riverwalk, and a new distillery.
Charlotte Mayor Jennifer Roberts noted that the goals for eastern North Carolina - innovation, workforce, and global connections - are similar to Charlotte and other cities.
"I always find that spending time in other communities is helpful despite the size," Roberts said. "You can always find things in common and we can work on things together. We have a stronger voice when we speak together."
The NC Metropolitan Mayors Coalition was founded in 2001 and is comprised of the mayors of the state's larger cities. The Coalition is a non-partisan, mayor-driven organization that focuses on issues of special interest to large cities in a fast-growing and urbanizing state. The Coalition has worked successfully with federal and state elected officials to promote job creation, protect local revenues, invest in public infrastructure, and keep cities safe.