City of Greenville Earns Cigna Well-Being Award
Post Date:
10/18/2017 8:31 AM
GREENVILLE, N.C. - The City of Greenville was recently named a recipient of the Cigna Carolina 2017 Well-Being Award, a recognition of the City's efforts to actively and positively impact the overall health and well-being of their employees.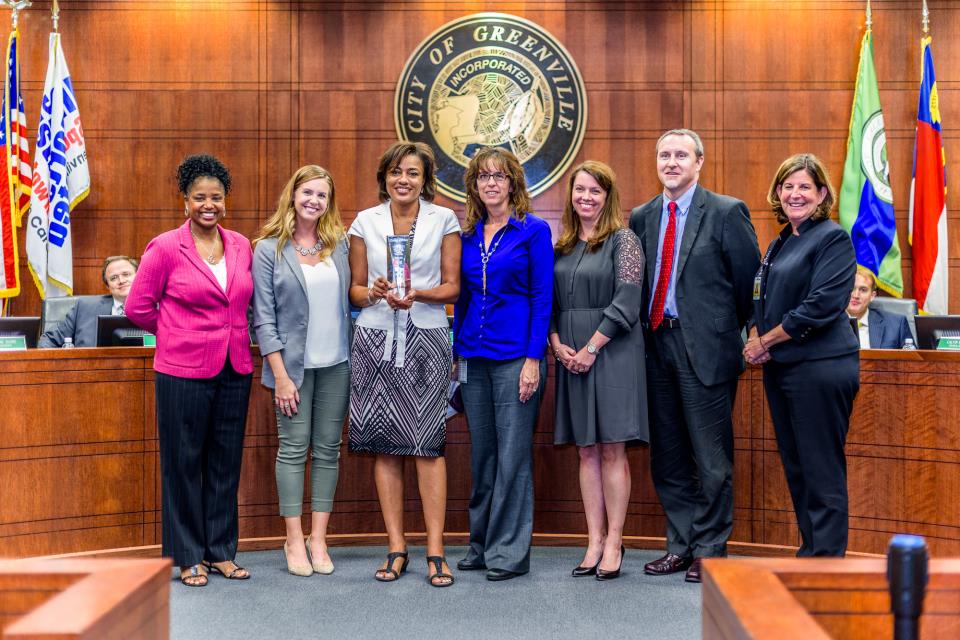 Greenville received $1,000 for its Health Improvement Fund to help further well-being initiatives and campaigns. The City will also be highlighted in Cigna's 2017 National Well-Being Award case study alongside recipients from other markets. The award was presented to staff from the City and Greenville Utilities Commission during the Greenville City Council meeting on October 12.
Criteria for the award focused on six different areas including leadership, policy/environment, program implementation, data collection, participation and engagement, and incentives. According to Cigna, the City of Greenville has demonstrated a strong commitment to building a culture of well-being through strong leadership support and visibility. Members from each City department sit on the City's Wellness Committee. The City also put several initiatives in place over the past year in an effort to improve employee wellness. Among them were the opening of an employee health clinic and monetary incentives for employees who complete certain examinations or online health coaching sessions.
"The City of Greenville easily demonstrated its commitment to building a culture of well-being, offers tailored and easily accessible programs for all employees, encompasses strong leadership support and visibility, and has incentives to make sustained lifestyle behavior changes," Cigna Senior Account Manager Amanda Dickhoff said.
This year, the Carolina's Client Advisory Council received applications from numerous employer groups with robust wellness initiatives and programs that made the scoring process quite competitive, Dickhoff said. Each application was reviewed by Cigna's national Well-Being Award Task Force and an overall recipient was chosen.
For more information about the award, contact Frank Salvato in the Human Resources Department at fsalvato@greenvillenc.gov.