Pedestrian Crossing Signal Installed on Charles Boulevard
Post Date:
11/20/2018 11:02 AM
GREENVILLE, N.C. — Pedestrians crossing Charles Boulevard near ECU's Minges Coliseum now have another tool to make the trip safer following the addition of Rapid Rectangular Flashing Beacons (RRFB) at the crosswalk.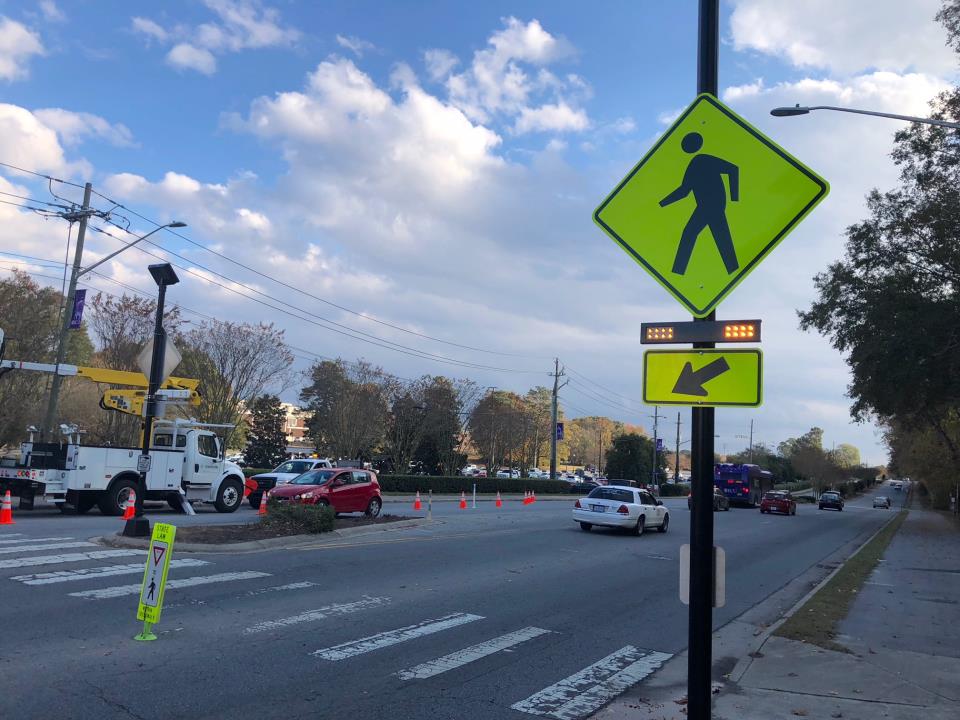 The City's Public Works Department completed the installation of the beacons on Tuesday in an effort to make drivers more aware when someone is entering the crosswalk. The beacons, when activated by a pedestrian or through motion detection, alert drivers that a pedestrian is in the crosswalk through solar-powered flashing high intensity LED lights.
The beacons are the third to be installed in the city with others located near the intersection of Cotanche Street and East Seventh Street and on Moye Boulevard near Vidant Medical Center. The RRFBs use an irregular flash patter that is similar to emergency flashers on police vehicles, officials say. They are intended to supplement warning signs at unsignalized intersections or mid-block crossings by eliciting a greater response from drives than traditional methods.
"As a City, we continue to explore all options for making our streets safer for pedestrians," Mayor P.J. Connelly said. "The flashing beacons have been effective in increasing driver awareness near crosswalks since we installed the first one last year, and I'm encouraged to see our Public Works Department moving forward with more of them."
The Federal Highway Administration (FHWA) recently collected data from a variety of U.S. cities on the effectiveness of RRFBs. According to the data, the RRFBs improve compliance of vehicles yielding to pedestrians significantly. FHWA data indicates a four-fold improvement with the use of RRFBs, which should greatly enhance pedestrian safety in the community, officials said. Each RRFB cost approximately $7,000, but officials say it is a lower cost alternative to traffic signals and hybrid signals.