Fire/Rescue Department Obtains International Accreditation
Post Date:
03/14/2019 5:08 PM
Greenville Fire/Rescue has the distinct honor of being awarded accreditation status from the Commission on Fire Accreditation International (CFAI). The accreditation recognizes best practices and self-accountability and validates that GFR is providing residents, visitors, and the business communities with industry-leading fire protection and emergency services.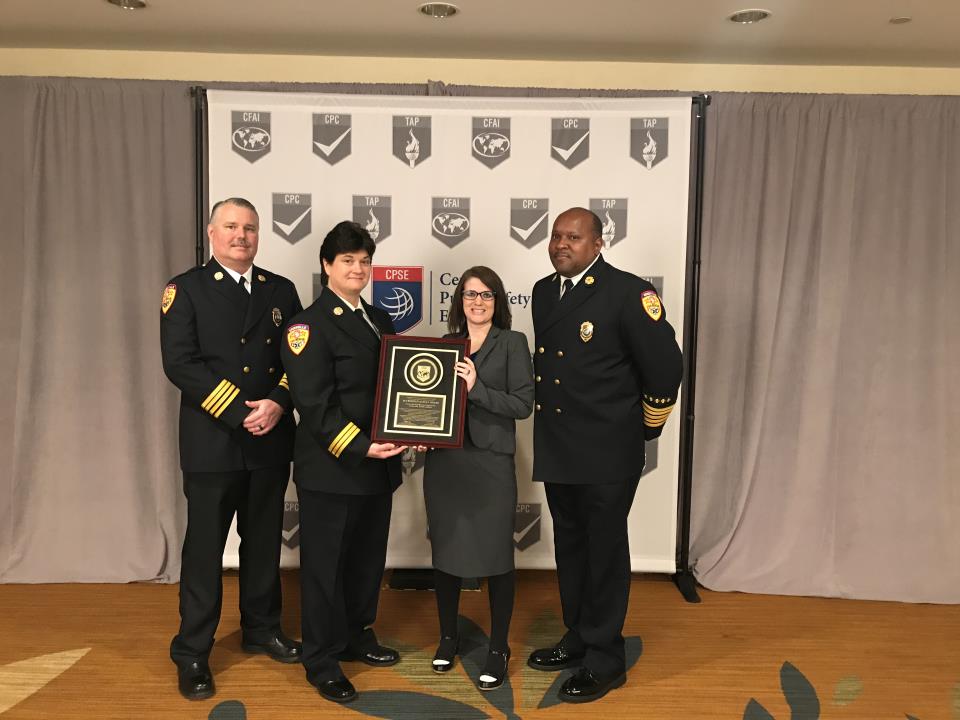 The CFAI accreditation program provides a framework for fire services to set goals, develop evidence-based strategic plans, and improve emergency services delivered. The multi-year journey to accreditation involved an in-depth review of every aspect of Greenville Fire/Rescue's operations, which were evaluated against 256 key performance indicators and international best practices. This included a detailed self-assessment, a comprehensive peer review by a panel of external experts, and formal verification by an 11-member commission.
"The accreditation process verified and validated the great work of Greenville Fire/Rescue's staff," Greenville Fire/Rescue Chief Eric Griffin said. "We truly have embraced and embodied a culture of continuous improvement. I am so proud to lead such a fantastic team."
CFAI accreditation is third-party confirmation of Greenville Fire/Rescue's commitment to continuously monitor performance, evaluate results, and measure outcomes against industry best practices to ensure delivery of emergency services that meet the needs of Greenville. The department's accredited status will be re-evaluated every five years.
"This accreditation demonstrates the City's commitment to excellence in fire and emergency services," City Manager Ann Wall said. "The staff of Greenville Fire/Rescue works hard every day to keep our citizens and visitors safe. This recognizes that effort and we are proud of the work they have done to accomplish this goal."
CFAI is a component of the Center for Public Safety Excellence, which is a nonprofit group that promotes continuous quality improvements to emergency services throughout the United States. The Commission's goals are to promote organizational self-improvement, help fire departments improve services to the community, and to award accreditation status in recognition of excellent performance.
"We strive to create a great city with great city services and this demonstrates our commitment to that effort," Greenville Mayor P.J. Connelly said. "I am proud of the work the Fire/Rescue staff has done to attain accreditation."
Return to full list >>