Butterfield Center Wins NCDOT Mobi Award
Post Date:
04/04/2019 4:58 PM
RALEIGH — The G.K. Butterfield Transportation Center was recognized this week as a winner of the N.C. Department of Transportation's inaugural Mobi Awards to honor towns, cities and counties for completing game-changing projects that used different modes of transportation to make travel easier and more efficient.
Winners were chosen in five categories - Rural, Suburban, Urban, Tourism and Innovation. All projects were eligible to apply for the innovation category. The Butterfield Transportation Center won in the Tourism category.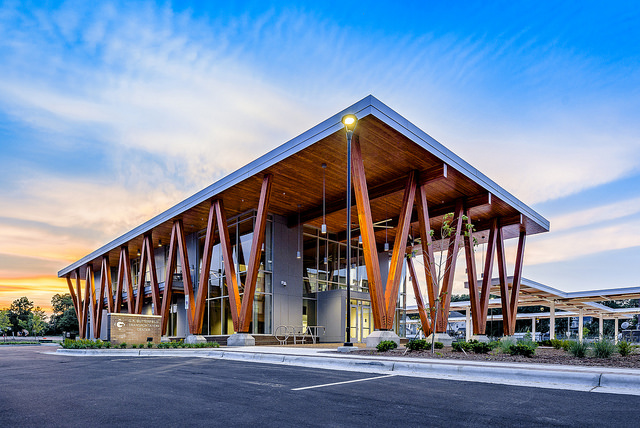 Judges from across the state chose the winners based on a project's success at leveraging public and private investment, spurring economic development, creating long-term jobs, improving health, benefiting the community, and contributing to the community or state in other significant ways.
NCDOT Secretary Jim Trogdon and Julie White, the NCDOT's Deputy Secretary for Multimodal Transportation, presented the awards.
"Our transportation system must be designed to meet the complex needs of the rapidly growing population of North Carolina," Trogdon said. "The North Carolina Department of Transportation is committed to designing and delivering projects communities want, need and will use. NCDOT Mobi Awards celebrate communities that are at the forefront of delivering multimodal projects. We are proud to partner with these communities to deliver these projects."
To qualify, a project must have been completed within the last five years and had to include two or more modes of transportation involving aviation, bicycle/pedestrian, ferry, public transportation, rail, or roadway.
The ceremony, hosted by the NCDOT, Women Transportation Seminars, N.C. Go! and N.C. State University Institute for Transportation Research and Education, was held at N.C. State's Centennial Campus.
To view videos of all first-place winners, visit connect.ncdot.gov/mobi.
Return to full list >>