Breaking Ground: Sycamore Hill Gateway Plaza Project Gets Underway
Post Date:
06/25/2019 9:45 AM
The long-awaited Sycamore Hill Gateway Plaza Project is officially underway following a groundbreaking ceremony held Monday night at the Town Common. Members of the community joined City staff for the ceremonial start of the project, a $1.9 million venture that will commemorate the history of the former Shore Drive neighborhood and Sycamore Hill Baptist Church that once stood where the Town Common park is today.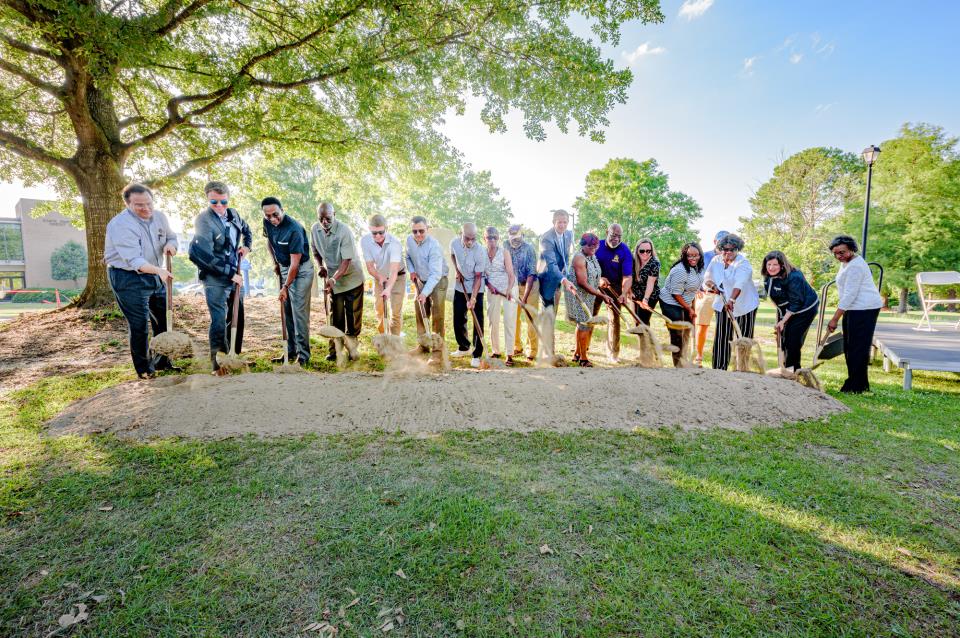 Once completed, the Sycamore Hill Gateway Plaza will serve as a prominent entrance to the Town Common's west end. The plaza will include a tower in the former location of the Sycamore Hill Baptist Church's bell tower, 22 walls that vary in height and tell the story of the neighborhood, and a terraced viewing area that faces the Tar River.
"Through the years, we have heard the stories about the vibrant history of this neighborhood and its residents," Greenville Mayor P.J. Connelly said. "We have learned about the influence Sycamore Hill Baptist Church had in the community and how the church, which stood where we gather today, was a place of faith, a community hub, and a center of civic involvement. Today's groundbreaking is another step toward our City's effort to commemorate that once thriving community. After months of planning, work, and collaboration, we are ready to start construction on this gateway plaza that will be a historically significant and aesthetically pleasing addition to this park and our City."
City officials were joined at the groundbreaking by representatives of the Sycamore Hill Advisory Group (SHAG) and members of the Sycamore Hill Baptist Church. Alton Harris, a member of SHAG, said he grew up in the neighborhood, which was demolished as part of an urban renewal project in the late 1950's and 1960's. The church remained until a fire destroyed it in 1969.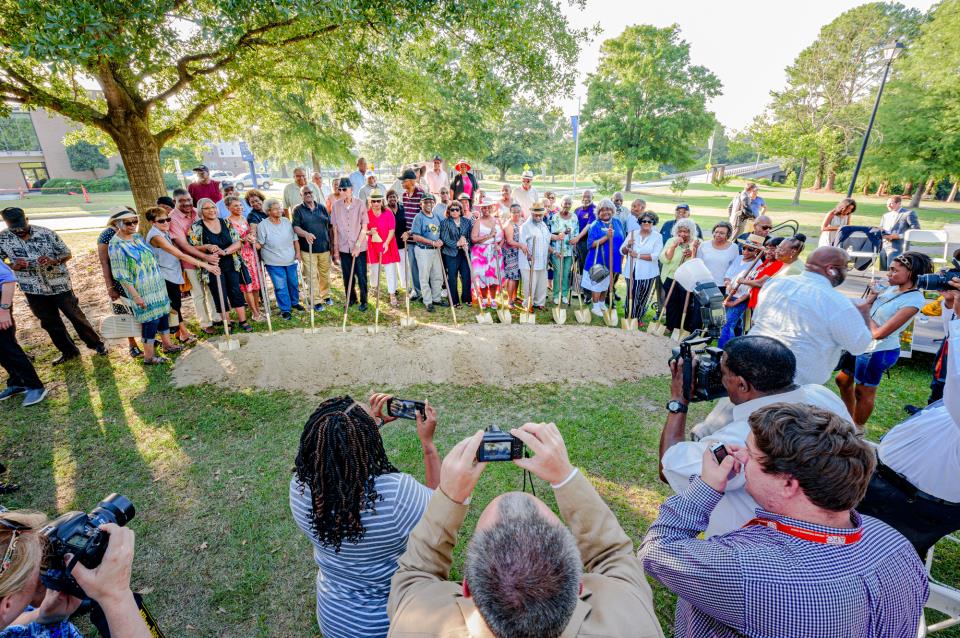 "What people don't know is that we had everything down here," Harris said. "This was a neighborhood and a black business district here. We had a barber and beauty shop, a doctor, a dentist, a funeral home, and auto tire shop, and a grocery store. We didn't need to go out into town. It was all down here.
"As a resident of Greenville and a native of this downtown neighborhood, I am happy the City has come to see the importance of our history."
Construction is expected to officially begin on July 8. Officials estimate the project will take nine months to complete.
"This plaza is going to be a cornerstone of Town Common just as Sycamore Hill was the cornerstone of the Downtown neighborhood, Connelly said. "I look forward to gathering here with you in the months and years to come."
Return to full list >>