Greenville Getting Ready to Groove Again
Third Annual Carroll Dashiell Greenville Grooves Music Festival Set for June 17
Post Date:
05/24/2016 7:45 AM
The City of Greenville is preparing for a homecoming and the return of a popular music show when the third annual Carroll Dashiell Greenville Grooves Music Festival is held next month.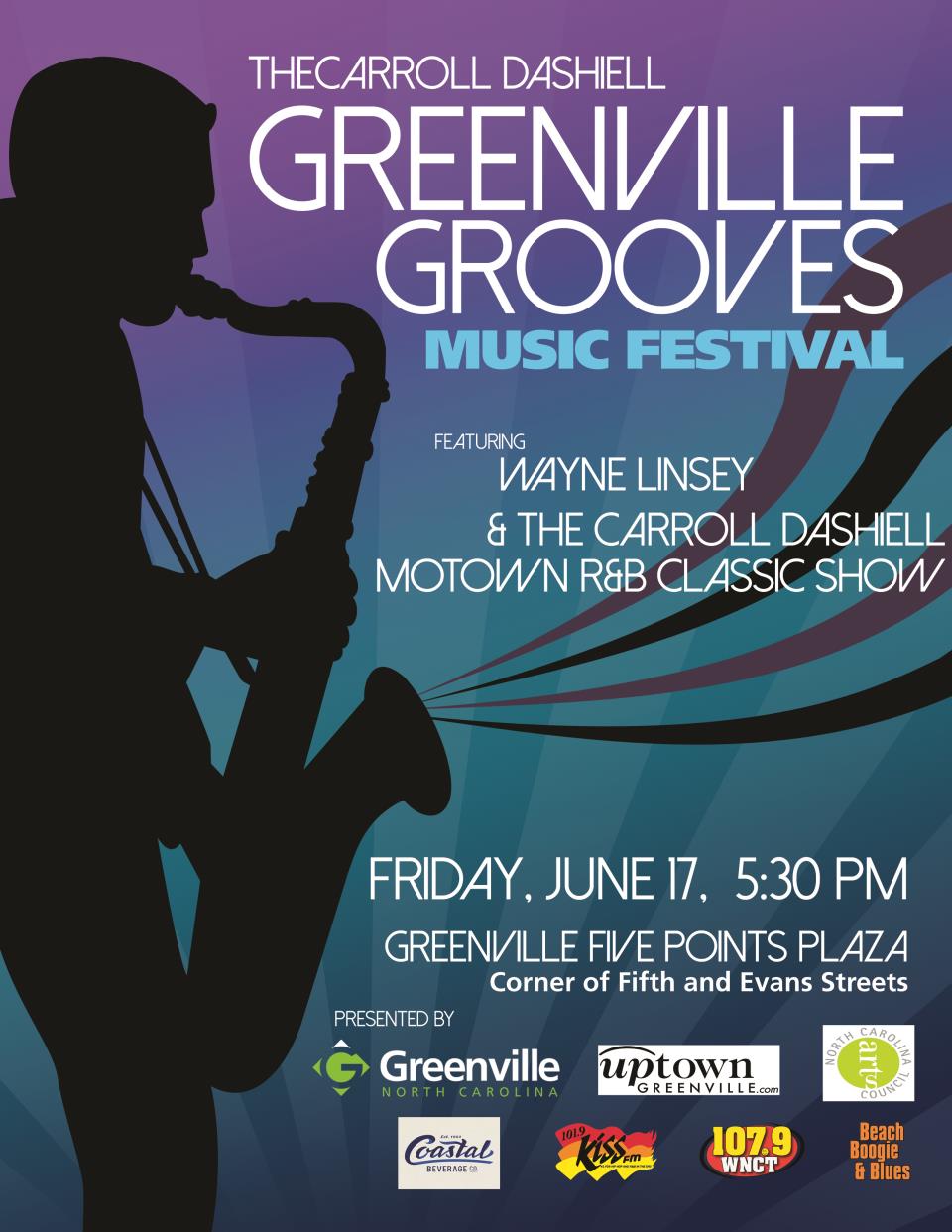 This year's event will be held at 5:30 p.m., on Friday, June 17 in the Five Points Plaza located on the corner of Fifth and Evans Streets. Sponsors of the free event include the City of Greenville, Uptown Greenville, the North Carolina Arts Council, Coastal Beverage, and Beasley Broadcasting.
Kicking off this year's concert will be Wayne Linsey, one of the premier keyboardists of his time who has toured and recorded with legendary greats such as Whitney Houston, Stevie Wonder, Miles Davis, Babyface, Aretha Franklin, and The Jacksons, among others. Linsey, whose family was born in Greenville, was also the lead keyboardist on American Idol and The Tonight Show with Jay Leno. He will perform a set of contemporary hits before turning the stage over for the return of The Carroll Dashiell Motown R&B Classic Show.
"We are really excited about this year's event because it is a great opportunity for Wayne, who has roots here in Greenville, to come home to perform," Dashiell, local jazz legend, said. "Also, we're bringing the Motown show back to Greenville, and that has been really popular over the years. It's going to be good food, good family, and good fellowship."
Dashiell said the Motown show used to be a regular feature at East Carolina University, and the opportunity to bring it back was one he didn't want to pass up. It returns after a one-year hiatus from Greenville Grooves, the annual concert that serves as Greenville's celebration of African-American Music Appreciation Month.
"If the first two years of Greenville Grooves are any indication of what to expect, this year's concert should be an outstanding celebration of great music that the entire community will enjoy," Greenville City Manager Barbara Lipscomb said. "We are so pleased to work with all of our partners to bring such a show to Greenville."
African-American Music Appreciation Month was originally started in 1979 by President Jimmy Carter and is a celebration of African-American music. Greenville is on the North Carolina African-American Music History Trail and was also the home of jazz legend Billy Taylor.
Return to full list >>