Numerous Events Planned to Recognize Juneteenth
Post Date:
06/08/2021 10:37 AM
GREENVILLE, N.C. — The City of Greenville is offering a variety of events and activities to recognize Juneteenth this year, including the annual Greenville Grooves Music Festival and a new business pop-up celebration.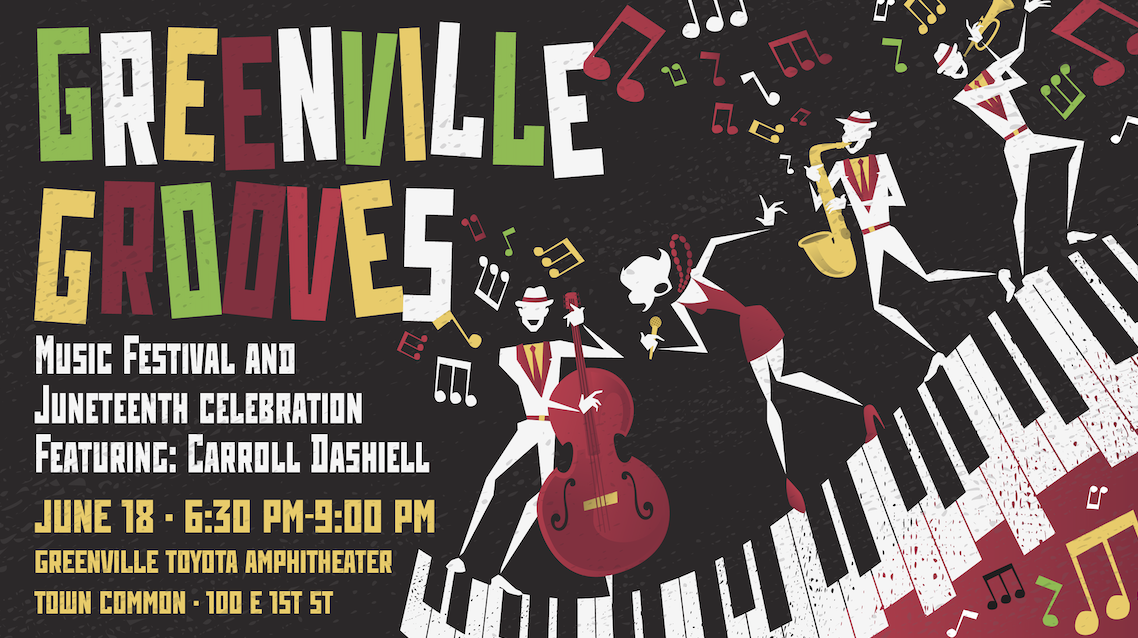 The weekend of fun begins on Friday, June 18, when local jazz legend and East Carolina University School of Music professor Carroll Dashiell returns for the annual Greenville Grooves Music Festival, an annual celebration of Juneteenth and African-American Music Appreciation Month. This year's event is scheduled to begin at 6:30 p.m. at the Greenville Town Common.
Dashiell and his fellow musicians will entertain attendees with a mix of Contemporary, Motown, and R&B classics. In addition to the musical entertainment, food trucks, adult beverages, an arts and culture market, and other entertainment will be offered.
The Juneteenth happenings continue on Saturday, June 19, when the City's Minority and Women Business Enterprise hosts its inaugural "In the Black Business Pop-up Celebration" in the Uptown and West Greenville Districts. The event will include MWBE merchants, food trucks, and live entertainment for the whole family along with the opportunity to learn about new small business resources.
"In the Black" will serve as the official launch of the Small Business Co-Op Space located at 415 Evans Street and the shared kitchen space located at the Gold Post Cafe at 803 West Fifth Street. The day will also incorporate a stop on Albemarle Avenue known as the "Block", Greenville's historic minority business district, to introduce the African American Cultural Trail that will launch in the fall of 2021.
"We are excited to officially open the doors to our new community assets and to celebrate Juneteenth, the national freedom day for African Americans formerly enslaved," Greenville Financial Services Manager Denisha Harris said. "This is a prime opportunity to elevate, educate, and empower our small business community and make intentional strides towards an economic freedom that builds wealth and increases the economic impact of our community."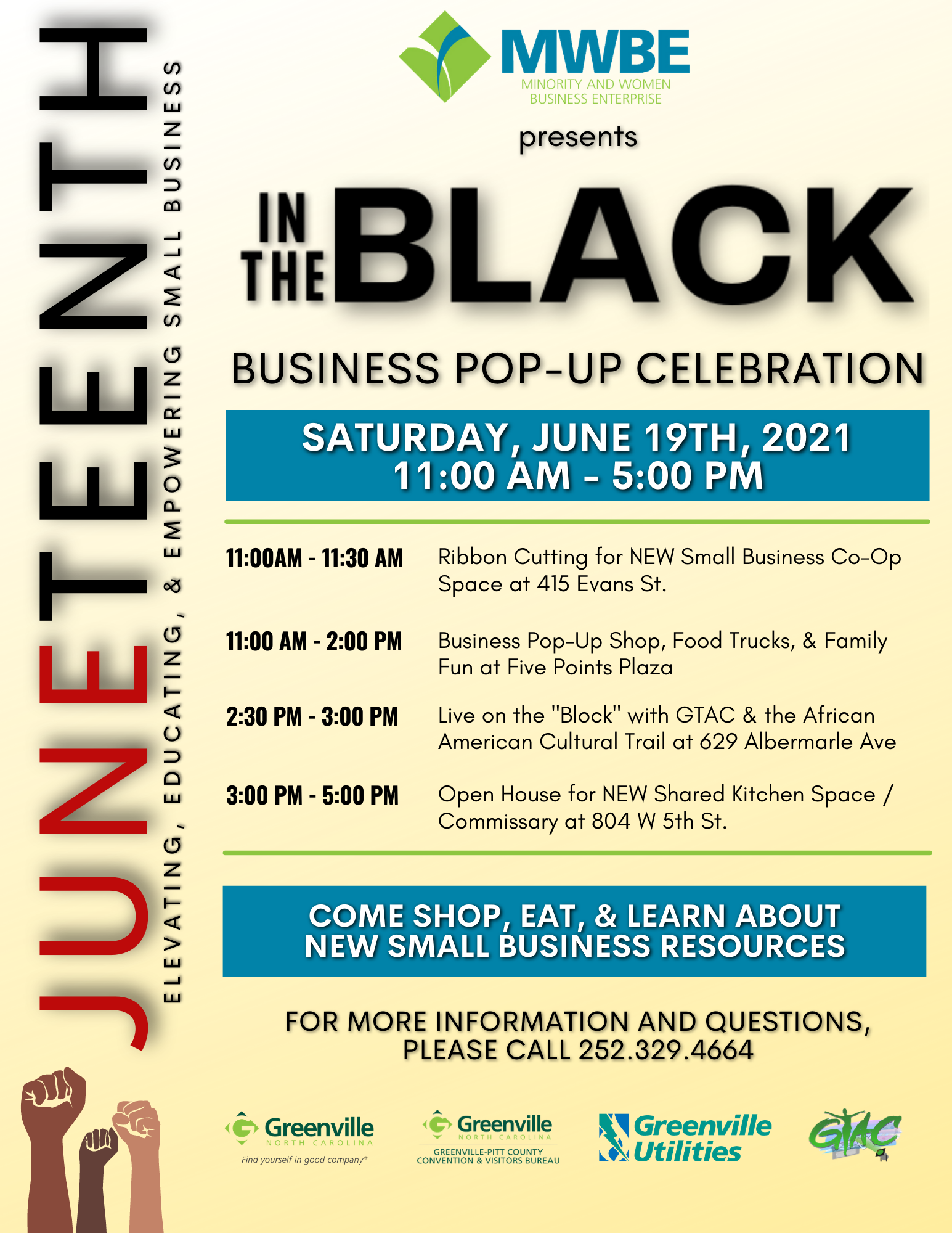 In the Black Business Pop-Up Celebration Schedule of Events:
11:00 a.m.-11:30 a.m.: Join us for a Ribbon Cutting and Open House at 415 Evans Street. Take a tour of the retail space and back office opportunities. While there, take a moment to enjoy and appreciate some of the art pieces installed by the Black Creatives of Pitt County.
11:30 a.m.-2:00 p.m.: MWBE will provide MWBE merchant opportunities just in time for Father's Day at Five Points Plaza, located at the corner of Evans and Fifth Streets. A variety of food trucks and entertainment, including DJ Big Six Entertainment and the NuLook Steppaz will also be at Five Points Plaza, along with the popular cover band, The Monterio Experience, to provide urban radio hits and Motown grooves.
2:30 p.m. – 3:15 p.m.: Meet on the "Block" at 629 Albemarle Avenue, home of the Greenville Theater Arts Center (GTAC). Here, the African American Cultural Trail Committee will be providing a live presentation on the history of Albemarle Avenue and the Roxy Theater, a cultural cornerstone for the minority business district.
3:15 p.m. -5:00 p.m.: Wrap up the day at the Gold Post, the MWBE Program's shared kitchen space and commissary. At the Open House, local food service talent will have the opportunity to check out the space and gauge interest in utilizing the kitchen for their commercial needs. City officials will be on site at 804 West Fifth Street to answer any questions and provide tours.
The Small business co-op space and the shared kitchen space are just two of the strategies designed to support small business as a part of the Incubate to Accelerate Initiative. In addition to physical space, the initiative offers a loan program up to $25,000 for operating and capital needs as well as free business accounting services from a local CPA.
There are several other Juneteenth events going on throughout the community on June 19 including:
1st Annual Juneteenth Food & Music Festival 10:00 a.m.–6:00 p.m.
Juneteenth 90's Festival 3:00 p.m.
HYPEFest by HYPE Leadership Academy 4:00 p.m.
Celebration of the Culture by GTAC 2:00 p.m.–5:00 p.m.
4th Annual Juneteenth Celebration: Mind.Body.Spirit. by the West Greenville Health Council (Virtual) 11:00 a.m.
Return to full list >>