City Breaks Ground on New Pool, Eppes Renovations
Post Date:
06/23/2021 3:15 PM
A new community pool and renovations to the Eppes Recreation Center are coming soon to Thomas Foreman Park following a groundbreaking ceremony held on June 23.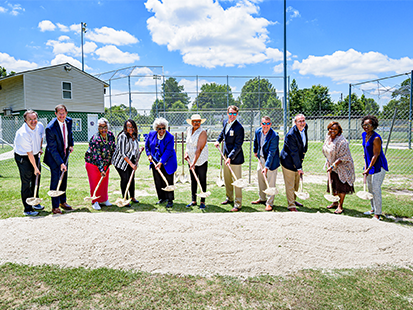 Members of City Council, City staff, representatives of the Eppes Alumni Heritage Society, and community members gathered at the park for the event, which officially kicked off construction for the two capital improvement projects. The $4.5 million community pool will replace the City's existing 49-year-old pool, while the $1.3 million in renovations to the recreation center will provide various upgrades that will benefit the patrons, staff, and Eppes Cultural and Heritage Center.
"We are making a big splash with these projects, and I can't wait to stand before you in about one year when we open them up for the community and everyone starts to reap the benefits," Mayor P.J. Connelly said.
The new community pool will include a zero depth entry play area with a recreational structure similar to a playground, a recreational pool with a basketball goal, six competitive swim lanes, a 16-foot slide, and a 3,300-square-foot bath house with a family restroom. The pool will replace the existing pool on Myrtle Avenue, which at 49 years old presents numerous challenges to maintain.
"If you try hard enough, you can already envision the families relaxing, kids splashing, and hear the joyful laughs that will be carrying throughout the park," District 1 Council member Monica Daniels said.
The Eppes Recreation Center renovations include a 1,750-square-foot addition to the Nash Street side of the building that will be utilized as the main entrance for the facility. The front entrance will provide recreation center staff with the opportunity to offer quality customer service to the patrons visiting the facility and improve the visibility for staff to help with supervision. In addition to creating a main entrance, the project will include updates to the Police Athletic League after school rooms as well as the C.M. Eppes Cultural and Heritage Center. The renovations also include the addition of a teen lounge.
The pool was designed by Kimley-Horn and Associates, and Farrior and Sons will handle the construction. H&H Architecture designed the Eppes renovations, and construction will be completed by IMEC.
Return to full list >>