Brock Davenport Named Fire/Rescue Chief
Post Date:
10/18/2023 1:42 PM
GREENVILLE, N.C. — The City of Greenville Fire/Rescue Department officially has new leadership.
Brock Davenport, a 24-year veteran of the department, has been named Fire/Rescue Chief by City Manager Ann Wall. Davenport, who has served as interim chief since February, will be officially sworn in during a ceremony on October 23 at 9 a.m. in the Council Chambers of City Hall, 200 West Fifth Street.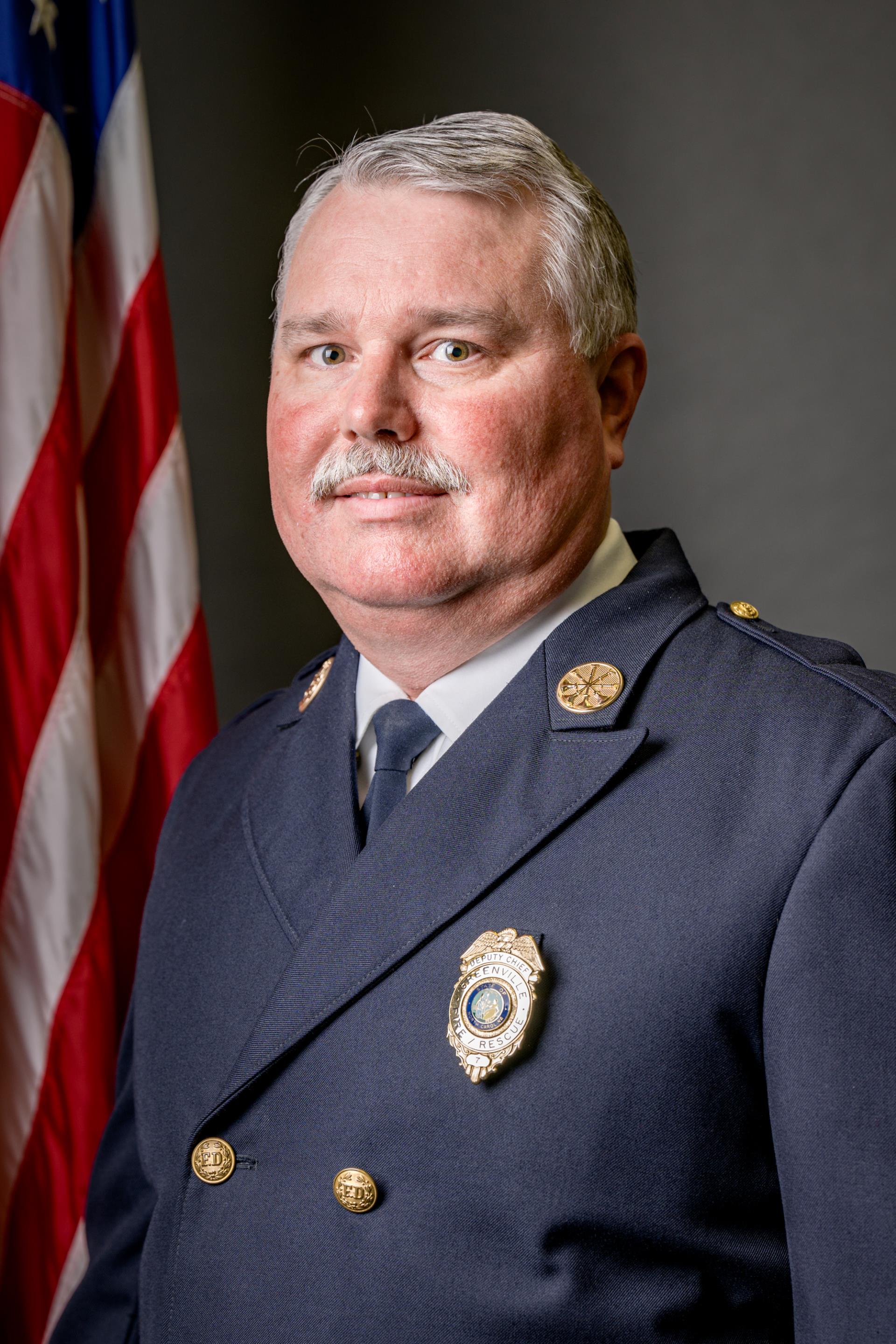 "We are pleased to announce the appointment of Brock Davenport as Chief of the Greenville Fire/Rescue Department," Wall said. "Chief Davenport has achieved numerous accomplishments during his time with Fire/Rescue while demonstrating that he has the leadership skills necessary to keep the department moving forward."
Davenport joined Greenville Fire/Rescue in May of 1999. He worked his way up through the ranks and most currently held the role of Assistant Fire/Rescue Chief before taking over the position of interim chief when Carson Sanders departed earlier this year. He holds an undergraduate degree from Fayetteville State University in the field of Fire Service Administration and an AAS Degree in Paramedic Science from Keiser University.
"We are excited for Chief Davenport and the City of Greenville," Deputy City Manager Michael Cowin said. "With his experience and the relationships he has formed throughout his time with the department, Chief Davenport was the right choice to carry on the great work of the department and prepare it for the future growth that will be necessary to provide the most efficient services to our community."
Davenport and his wife, Dawn, are longtime residents of Greenville where they have raised three children, Sammy, 35, Audra, 32, and Ashton, 19. The couple share five grandchildren, Sparrow, Avery, Skylar, Maxwell, and Mattox. In his free time, Davenport enjoys spending time on the water with his family, friends, and two dogs, Bodie and Molly.
"I am humbled and proud to be given such a wonderful opportunity," Davenport said. "It is a great honor to be selected to lead such a great group of men and women. I will remain committed to leading by example and ensuring that our department remains prepared to respond to any emergency no matter how great or small. I have always believed that the fire service is not just about fighting fires, it's about being there for our community when our community needs us most."
Return to full list >>